Two men dragging a dead body noticed on Google Maps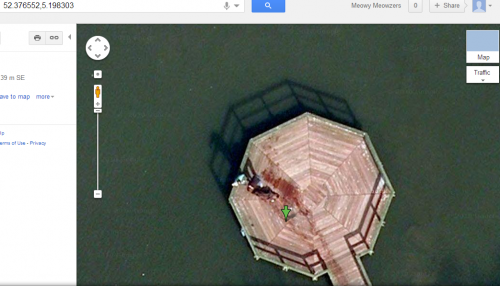 While navigating Google maps, I noticed some amazing, shocking and horrifying imagery.
The following image is from the country Netherlands.
The image shows two men dragging a body and probably dumping it in the near by water. It appears that the two men dragged the body along the wooden bridge from the woods. You can see that the person is bleeding since the blood trail is visible all along.
It is very uncommon for google maps to put up such images, since they censor each and every image before putting it live on Google maps. It is possible that this image might have gone unnoticed under the Google's radar. You can still view this image by enter the coordinates in Google maps.
The address comes out to be:
 1312 Almere, The Netherlands 39 m SE
Coordinates:
52.376552, 5.198300
Leave a comment to let me know what you think, why Google put up such an image? Was it a mistake? or Was it done purposefully?
UPDATE:
Apparently it was found that the image is from the year 2009. A more recent photograph of the place can be viewed using Bing Maps.
The Bing version of the scene shows the wooden plank, right where the body was placed has been removed.
Can anyone guess what the reason is for removing the plank? Is it just repair work, or does it have to do with the incident? Let me know by leaving a comment below 😀
Incoming search terms: