This page contains all the various resources we used to create our projects/ guides. We'll keep you updated often as we progress further with our projects.
GEAR – All the products we have talked about/ reviewed.
TOOLS – All the tools we have used and recommend personally.
RIGS – All our PC/ Other devices specifications that we used for our projects.
The links to each product/ tool/ part are listed at the bottom of each category & text.
GEAR
This list will contain all the gear we recommend/use for all of our projects. It is irrefutable that, to complete a project, it is necessary to prepare all the tools and products.
By doing all the work all these years, I learned how to use lots of tools and products, put them through stress tests, analyse their potential.
On a negative side, in a surveillance business (as an employee), if you don't adapt to any circumstance that may appear every day, it will be a struggle to do the job correctly. Naturally, everyone struggles with work at first since no one was born with infinite knowledge.
Same goes for electronics; there is a constant need to adapt, to reinforce the correct blueprints to create the perfect circuit board, the ideal software, precise tests. Everything we recommend on our blog is what we would do, what we did, what tools we used.
There is a product that I recommend to everyone, and I believe we all must have something like this. It's called UPS (uninterruptible power source). If you want to check it on Amazon, read further. It's necessary for almost any office that has precious data stored.
Bought a brand new UPS
UPS has a separate power source that, becomes important after a power outage. That is to exclude power spikes, but we talk about this in a second.
Generally speaking, when a power outage occurs, the UPS activates it's the auxiliary power supply for about 30 minutes (depending on the total consumption of the electronic gear plugged into it) preventing any device connected to it to die instantly. 
Minimum recommended time would be 1 hour but 30 minutes is also excellent.
Speaking of UPS,
Update 14/09/2019
I bought a UPS because I had some power spikes some time ago and I was scared it might blow up my PC rig.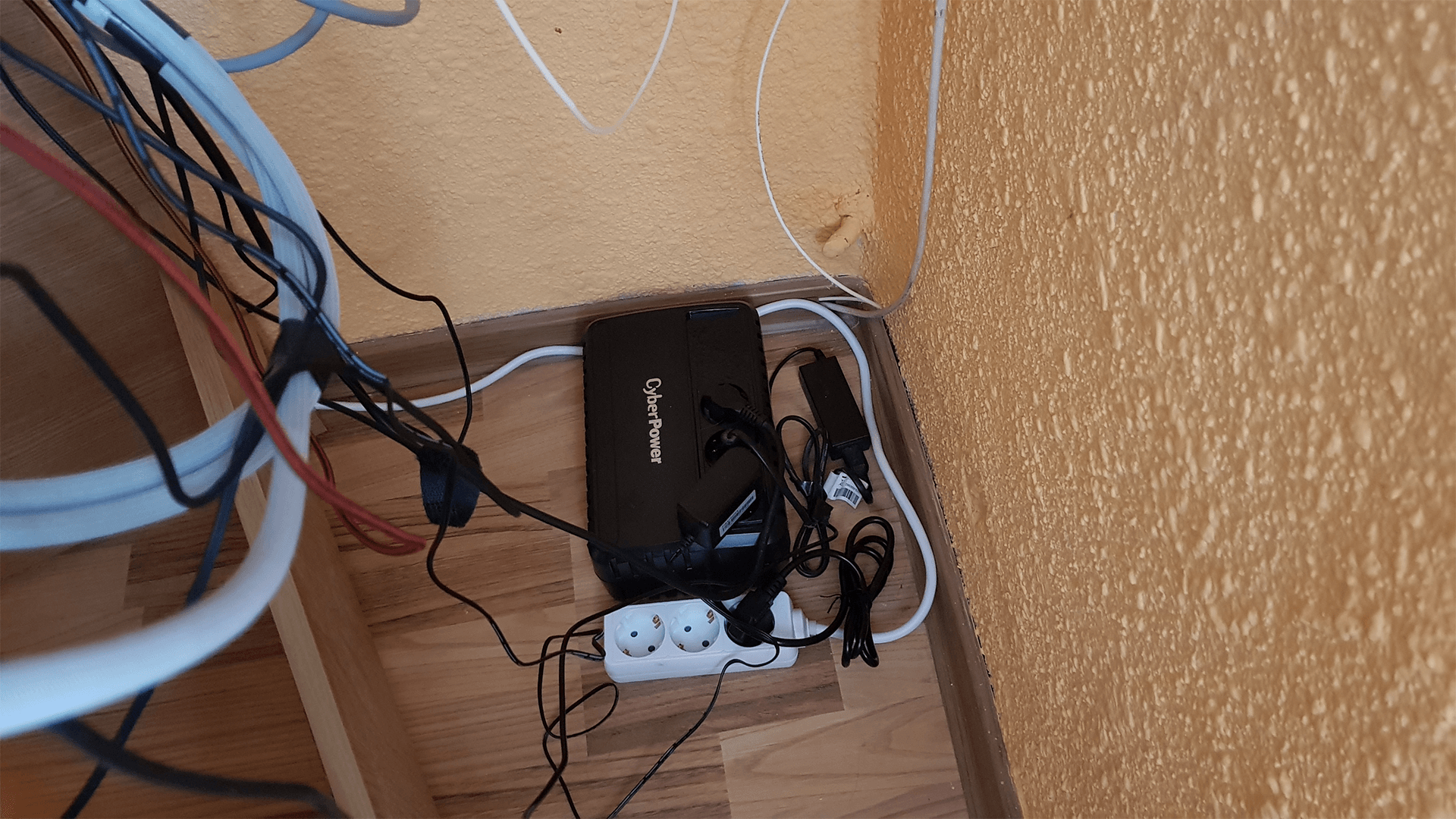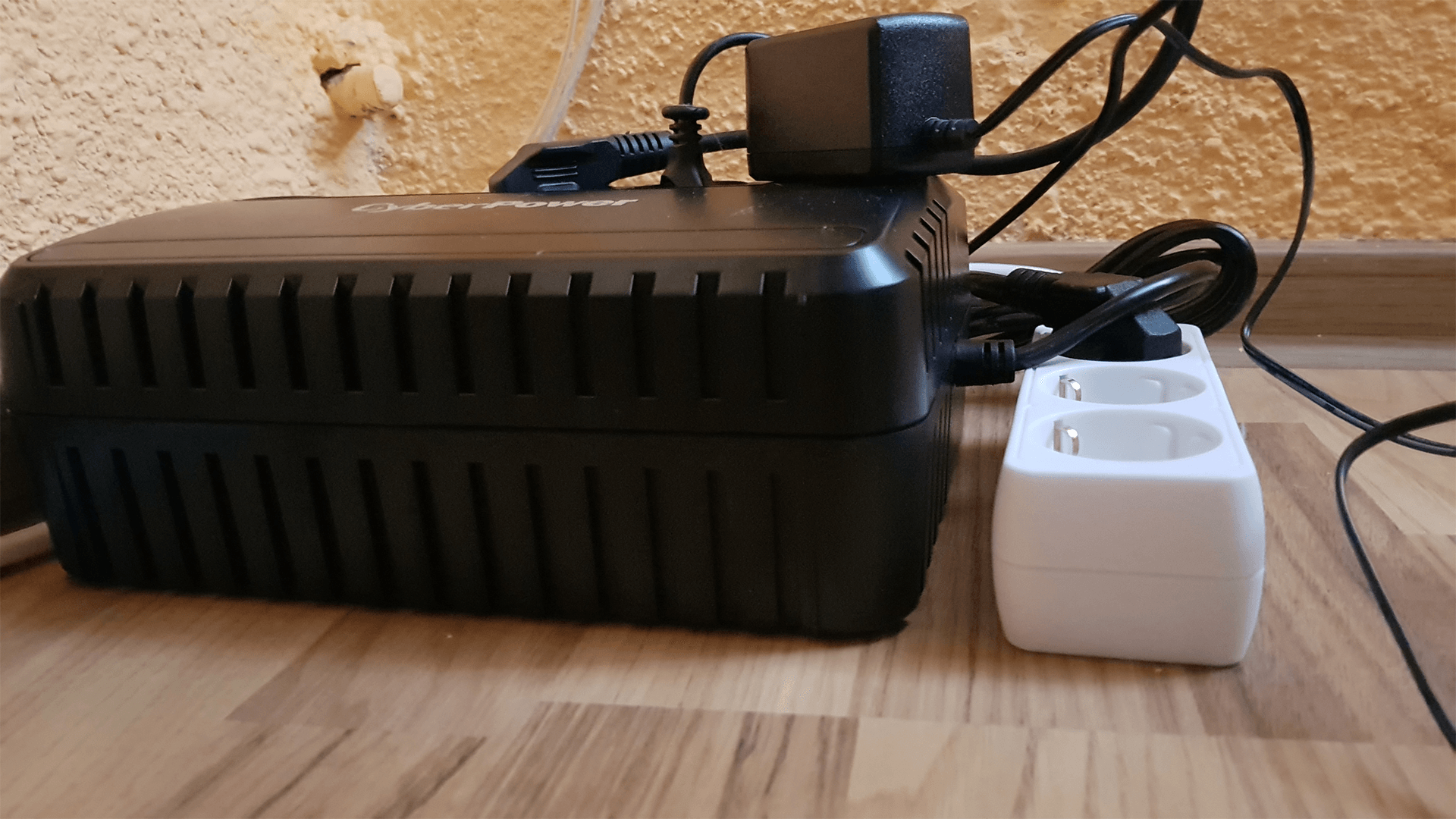 Went to a local shop and bought CyberPower BU Series UPS which was cheap actually, around $40.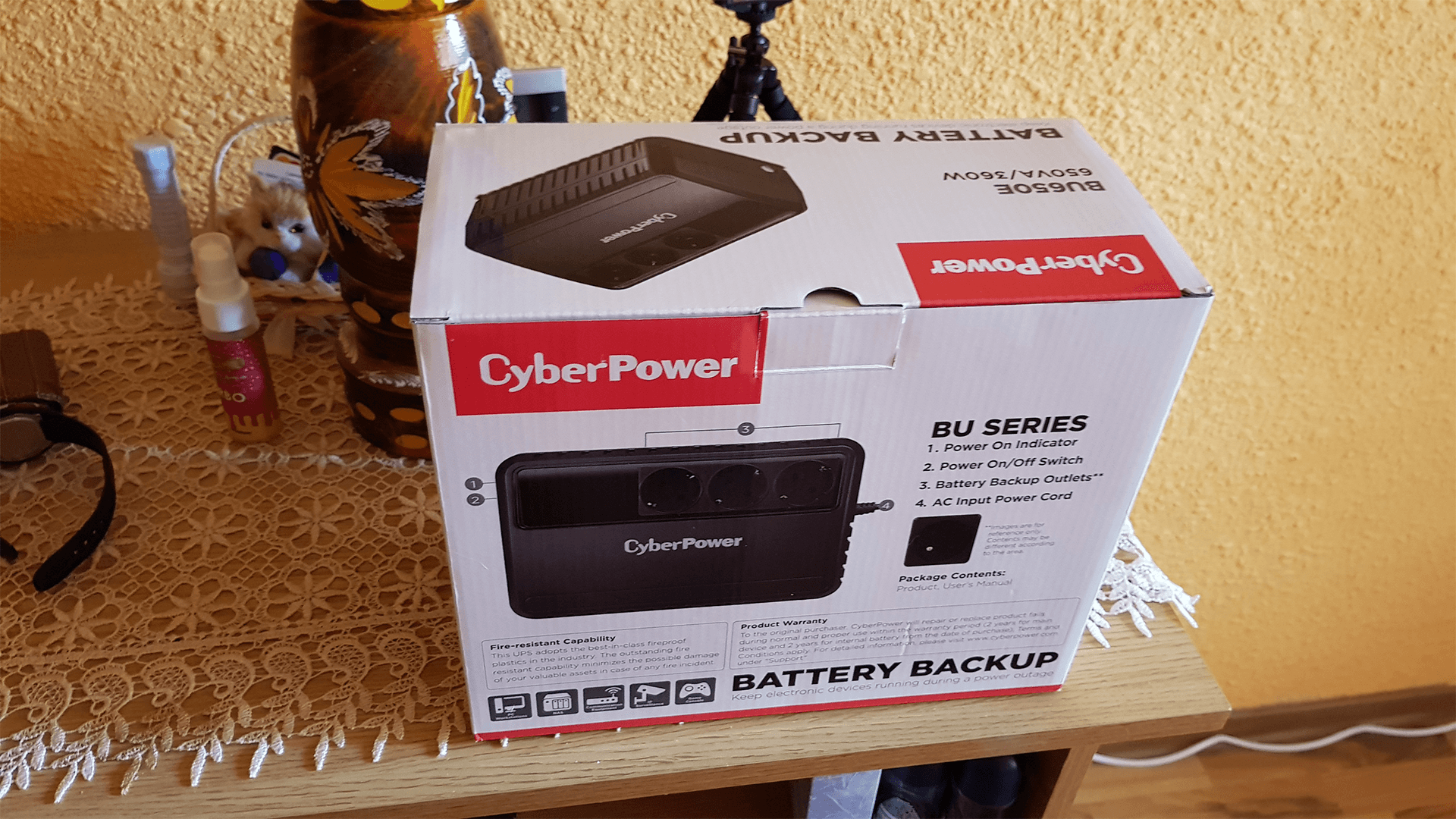 Tested it and so far so good. Be prepared to hear some constant high pitch noise, though. 
The design looks interesting, close to what I am usually installing, namely Renton 650 UPS.
As far as the manual says, a fully charged battery for this UPS will provide 30min online time (after the main power is cut off) for a 21″ iMac Computer that has around 60Watts consumption.
For a PC (surely mine will take more) with 90Watts consumption, it will give around 18min online time.
I get some exciting features as well, such as:
Automatic Voltage Regulation;
Generator Compatible;
Fire-Resistant Capability;
Battery Management Technology;
AVR (automatic voltage regulator) sometimes is included with UPS, allowing it to take on with pride any power spikes that could fry electronics. Yes, I had cases when the power spike was so significant, it burned even the UPS. I think it went to around 350V before it fried it to hell.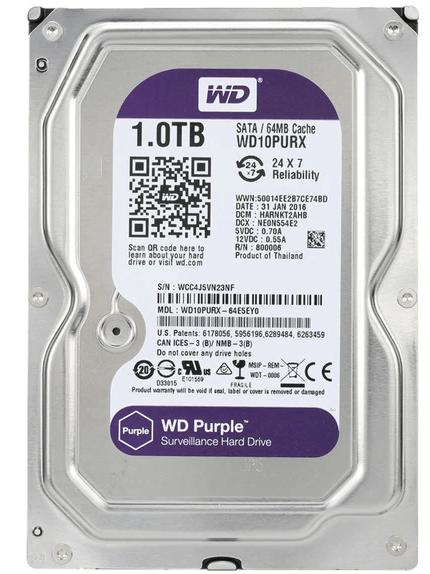 Surveillance systems need to store memory on an HDD. The first thing to remember is a surveillance system requires a select type of HDD. Do not use PC HDD with a surveillance system. The rotations per minute play an essential role.
To emphasise, Surveillance systems use HDD that have up to 5400 RPM while the PC HDD's have over 7000 RPM. Using PC Hardware can mess your data. It depends what size you want to acquire through.
If it's okay with you to use motion detection for cameras (using the individual camera sensors), then 1 TB is probably enough to store data from 4 cameras up to a week. 
Usually, I up that to 4 TB if it's a higher number of cameras or the client wants more storage over time.
You can find more about UPS by reading this article Why is uninterruptible power supply so important?
New Microphone
You know what? I decided to buy a microphone for my future reviews and game streams.
After a long search, I found GXT 248 Luno produced by the company called Trust to be what I need.
Why Trust GXT 248 Luno?
I have a gaming mouse from Trust, and it has been working well for almost a year and a half.
I kind of "trust" this company that it would provide me with some more quality goodies.
Check more about it on Trust website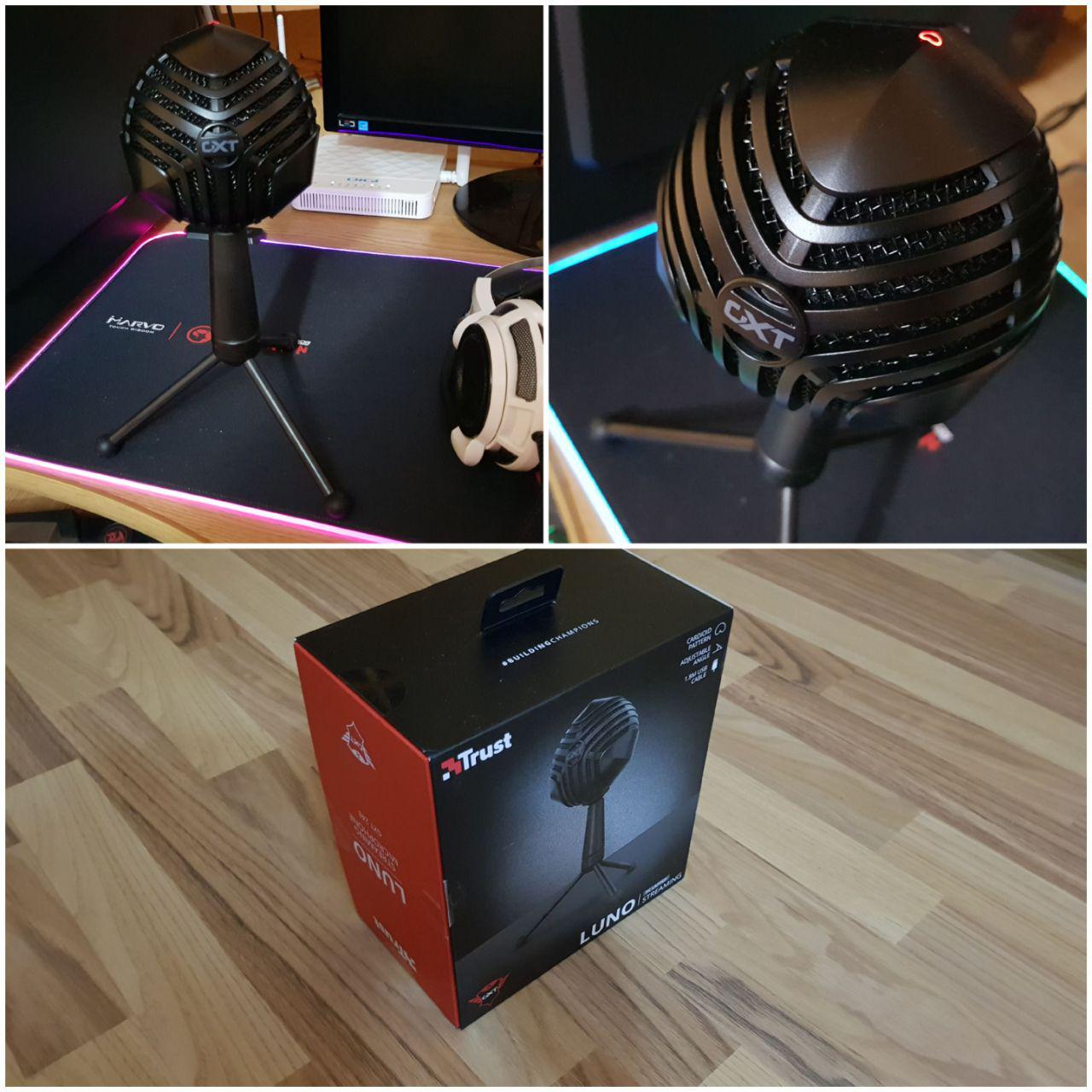 I had the chance to test this microphone, and I started asking people everywhere.
Had a call with my brother, he said it's perfect.
Then I called the other administrator of this blog; he said it's perfect.
I hopped into VRCHAT, and people said it's okay.
Tested it over Streamlabs Obs and I could add some helpful filters like Noise gate, Noise suppression, Gain.
I can't wait to use it for game streaming and Nuclearrambo reviews though. It's a fantastic piece of equipment, and it is an excellent addition to my desk as well.
3D Printer
I bought a Prusa I3 Pro B W/ LCD MK8 back in 2016. The 3D printer came unassembled and i had to assemble it from scratch. I finished assembling it in one day but i did not start working on the settings.
The following day, i made all the settings necessary in order to print my first object. I searched on the web how to connect my laptop to the 3D printer, installed necessary drivers, Cura software and then managed to understand how STL format works.
Basically, 3D printing software slicers require the STL format in order to understand the "3D model's language". Cura, with the 2020 additions, has certain plugins that allows the user to import blender and solidworks models directly.
When i first started, i had to use Autodesk Meshmixer software to convert my models into STL format.
I managed to understand the basics of 3D printing and that felt empowering. Not only did i succeed in assembling a monster by myself, but also being able to understand how it works. Really empowering!
At one point, my printing bed failed. That meant i could no longer get 60C bed support for when my fillament gets deposited. As you probably know, the first layer is the most important while 3D printing. Through various tests, layer height settings, temperature tweaks, i managed to get a grip on how to get a first layer. The problem now was how in the world would i get my first layer to stick on a cold bed?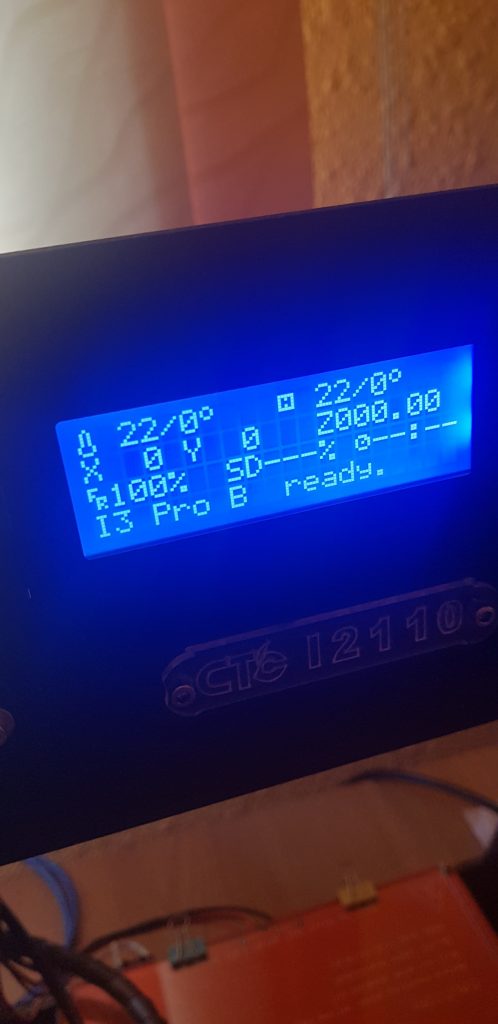 There are several videos on Youtube that taught me that it is possible. Now it was the time to get back on track. But guess what??
Surprise, surprise! My 12V-15A power supply was acting weird all of the sudden. It was not giving enough juice to the printer. I measured 220V input but the output was 0 (instead of 12V). It's a goner. Goodbye dear power supply.
Changed with a new one and it's all good now. My future plans with 3D printer is to print useful items for people and game figurines. If this printer won't satisfy my hunger for creation, i might buy another one. Until then, it's the perfect time to test it until it breaks.
nanoVNA
APC UPS Battery Backup & Surge Protector with AVR
Hikvision HD 1080P/2MP 4-in-1 IR Turret Camera DS-2CE56D0T-IRMF
HIKVISION DS-2CC12D9T-IT3E 2.8MM 2MP Ultra Low-Light PoC Bullet Camera
Hikvision H.265+ TURBO HD 8CH DVR 4K HDMI supports 5MP TVI/ 2MP
Surveillance HDD 4TB  min 5400RPM
TOOLS
Two of the main tools that I used daily were the DEWALT Impact Driver and the Makita Lithium Cordless Rotary Hammer. 
These are durable tools that can last even a decade if you take care of them properly.
The DEWALT Impact Driver is good because it's forcing the screw to go further than it can, to it's maximum, so it can't come out that easy.
Its inseparable partner is Makita Rotary Hammer. Using these two together is amazing in the security field.
Stuff you can use the DEWALT Impact Driver for: 
Install cameras on any surface (except hard surfaces, that's why Makita rotary hammer is helpful);
Mount metal boxes to fit in the security system + alarm system;
Can use it for normal things like – a loose screw that needs to be tightened up;
Good for the garage work as well;
DEWALT Impact Driver Kit
Makita Lithium-Ion Cordless Rotary Hammer
RIGS
First rig
First of all, you probably wonder, why were PC rigs added to the resources page?
Anything we write here is not to brag that our systems are more fabulous than someone else's. It is just the happiness that our rigs can run radio simulations, writing articles fast, multi-tasking software, testing demanding software.
The rig that I am about to list first, I built it around December 2018. It cost me around $1150, excluding the SSD which I bought in February 2019.
It is one heck of a system and works like a beast in Blender3D, Photo manipulation (Photoshop), Gaming, Multiple tasks. I never run out of memory, and to be honest, I don't need more than this for now.
Slapped in Windows 10 x64 as I've heard from several people it got better performance overall
More about my system
My system can run:
BF V at Constant 65+ FPS (limited because of the monitor),
BF 1 at Constant 65+ FPS (manually limited),
Counter-Strike Global Offensive at Constant ~200 FPS,
GTA V at Constant 120 FPS (manually limited),
Benchmarks
I did a benchmark using Unigine Valley, and I got these results.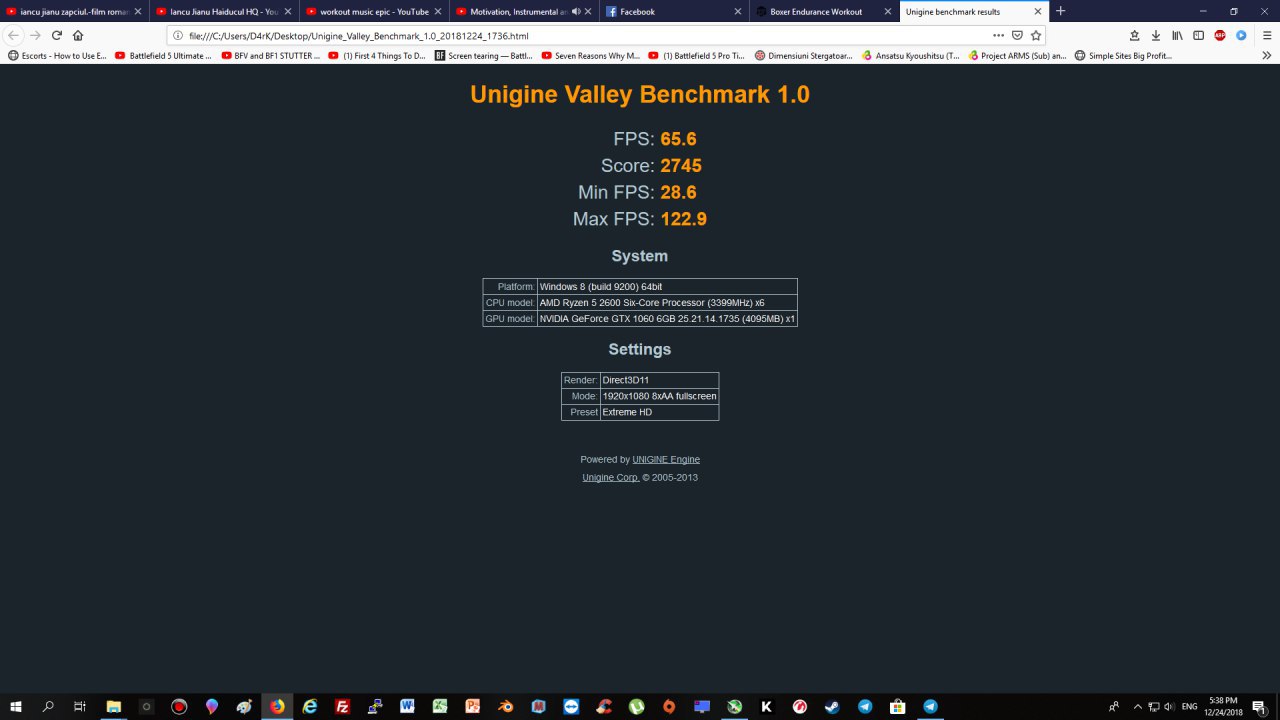 The score I had on Novabench (although my system already runs some applications so the results may vary at the moment)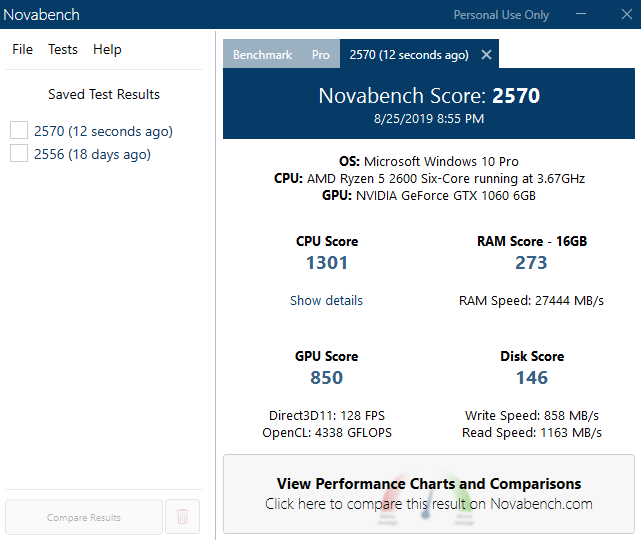 Thanks to my Kingston A1000 M.2 NVME SSD, Microsoft Office, Powerpoint, Excel open almost instantly.
Need around 1 second to open any of the applications. Photoshop is also loading faster.
Another reason I like this rig is that it runs Blender 2.8 release like a pro. It can display around 2.000.000 polygon scenes with no sweat.
However, the temperature of the GPU goes up when rendering those 2.000.000 polygons consistently.
A most powerful feature of this rig, and probably 50% the reason why I built it in the first place was the ability to stream online with decent FPS and even run game streams which I am going to do at some point!
After testing this rig continuously for video editing; indeed, I say it is excellent for that task.
AMD Ryzen 5 2600 might seem cheap and not worth it, but I can assure you, it has 6 CPU Cores with 12 CPU Threads. That will be enough to keep up with the GTX 1060 properly.
I have to say my only bottleneck to this system might be the internet package from my ISP. I got the lowest package of 100 Mbps until now. I am updating in September to 300 Mbps and take it for a test.
The G.SKILL memory has proven out to be pretty good so far. I activated XMP Profile in the Bios to be able to taste that sweet 3000 Mhz Speed.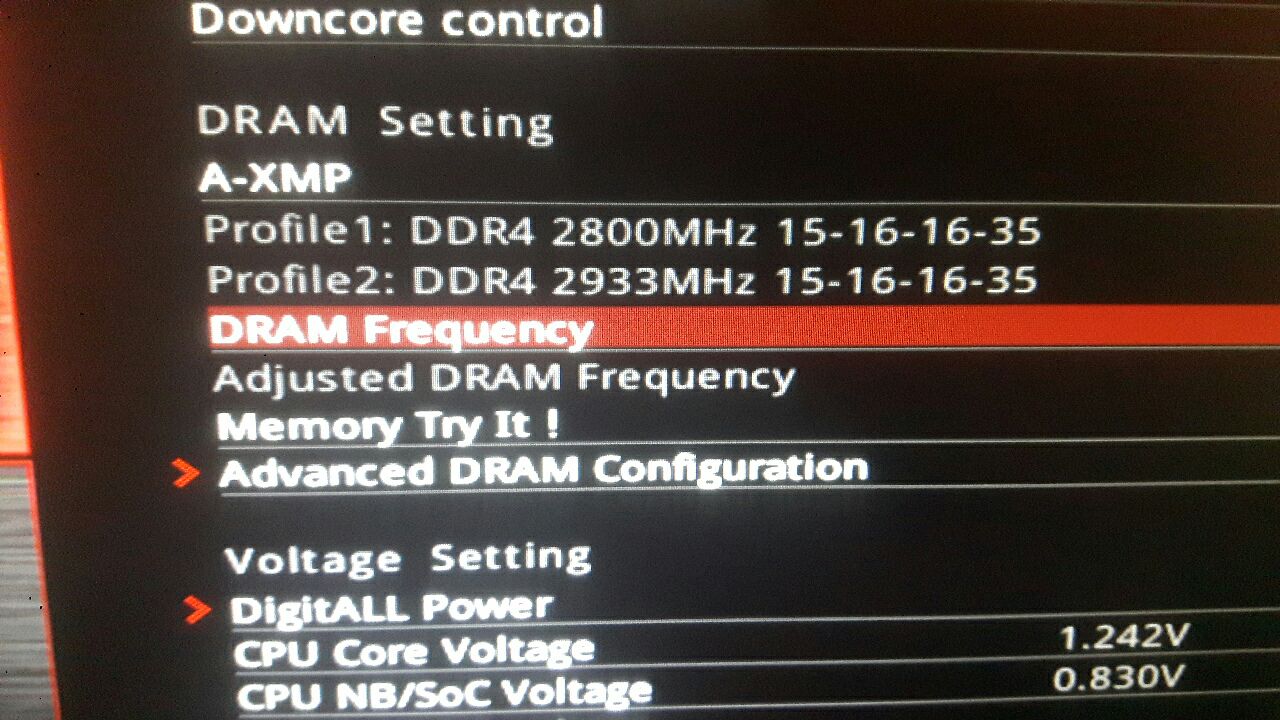 The interior design of my rig is reasonably lovely, compared to what I had before.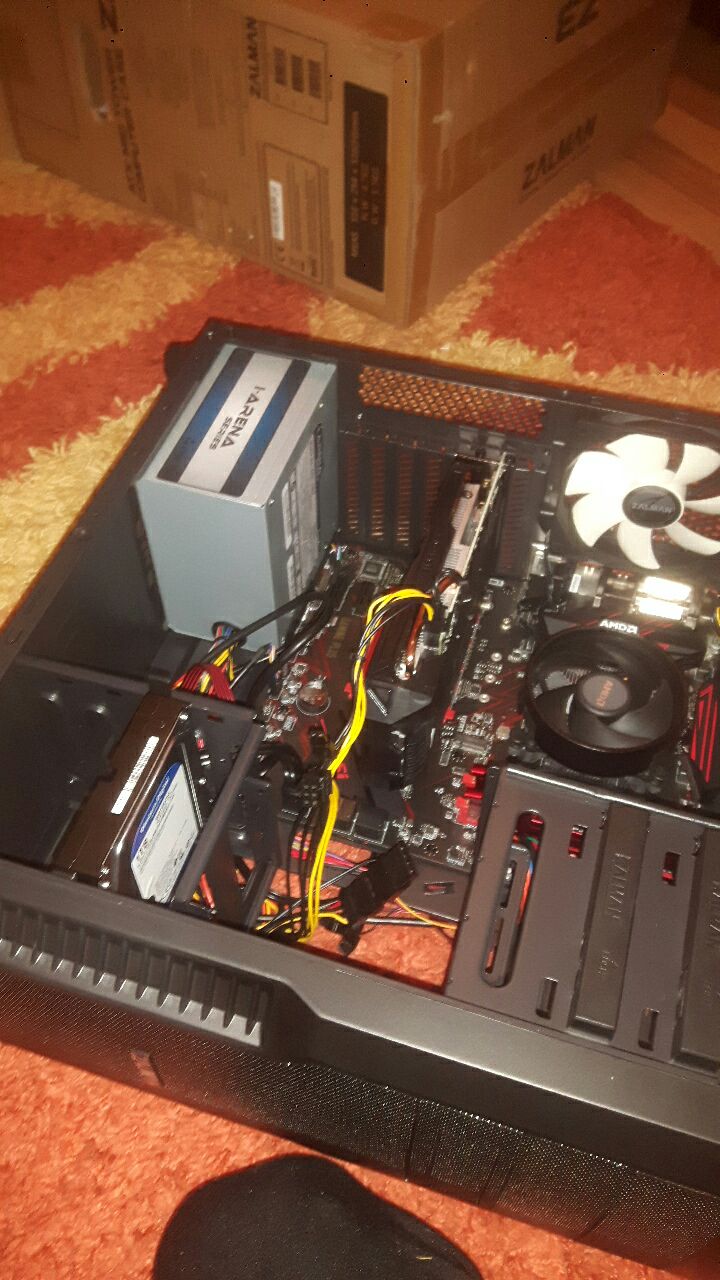 The backside of the PC looks fancy as well. Tasty!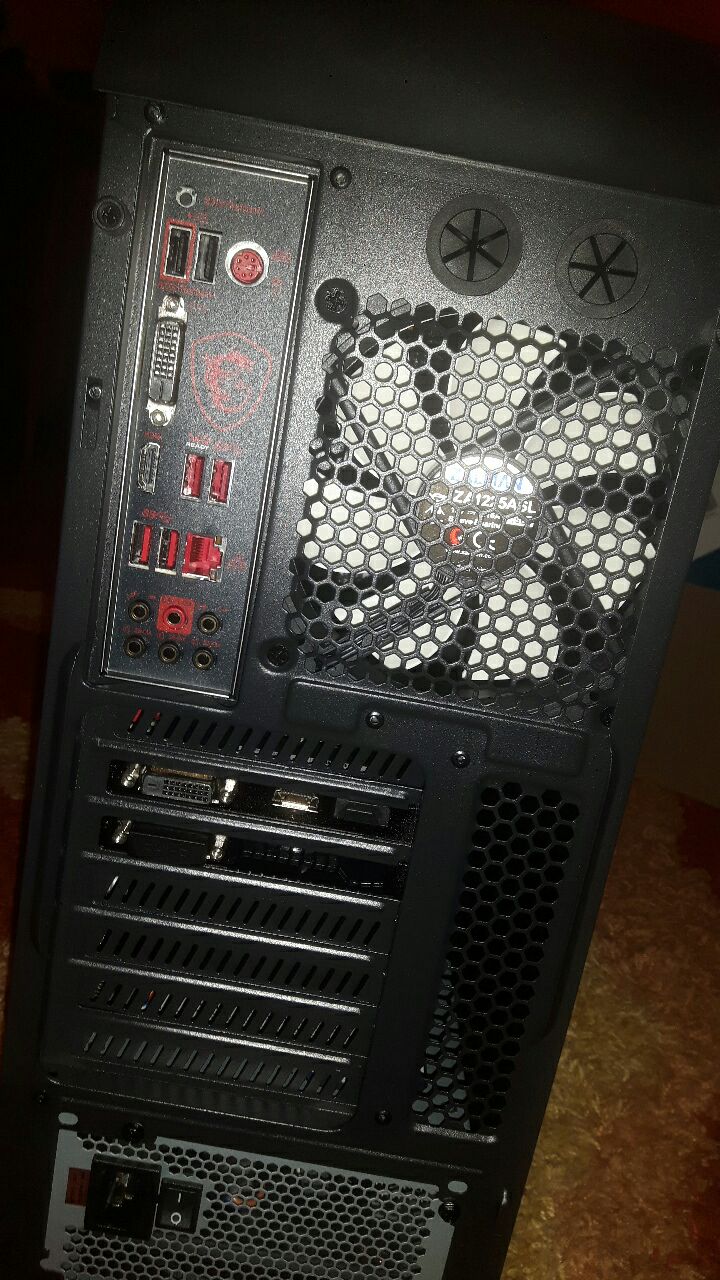 How does my desk look with final additions?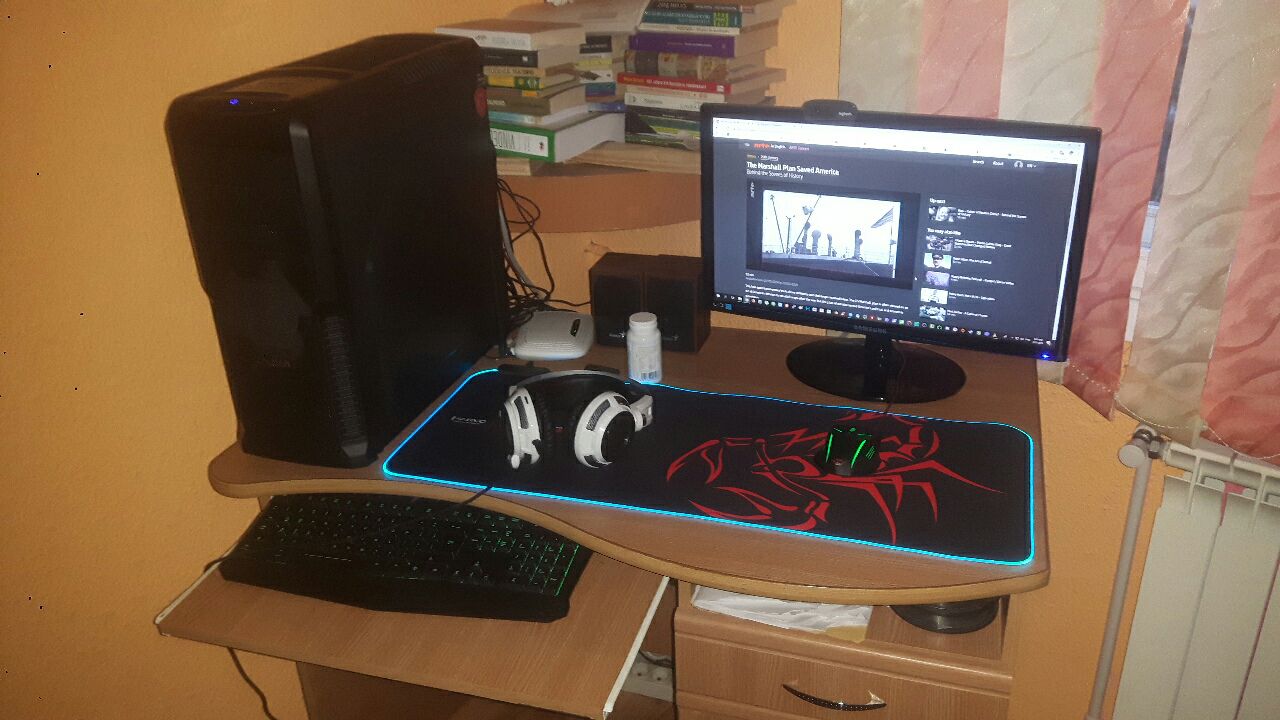 I used to own probably a second-generation i5 around 3500k or something like that.
I have upgraded it in December 2016 by replacing Nvidia GT 440 1GB DDR3 with Nvidia GTX 750TI 2GB GDDR5 with 8GB DDR3. It has been an excellent warrior, though, staying with me for like eight years.
I took the decision to give it to my dad. He will use it to learn a lot about computers.
New FiberLink Router
Finally, the boys from ISP came to install the fiber link in my apartment. Up until now, I had a 100 Mbps package from my ISP which was decent enough for gaming, uploading about just anything, writing my articles.
The only issue was the contract expired eight years ago. I did pay for my ISP services (internet, TV, phone), and they kept me in their service as well, but the time came when I had to visit them at the big office.
Took some free Saturday (last week's) to go with my dad (their real client) to visit them.
Guess what? We got a pretty good deal! They created another contract for us, told them not to include the phone service anymore. That would be $1 off every month (which we paid for eight years).
Then the boys came to install the FiberHome Router and fiber link into my room.  My speed increased from 100 Mbps to 300 Mbps for only $0.50 a month. Furthermore, they gave 50% off for the first four months.
My speed now: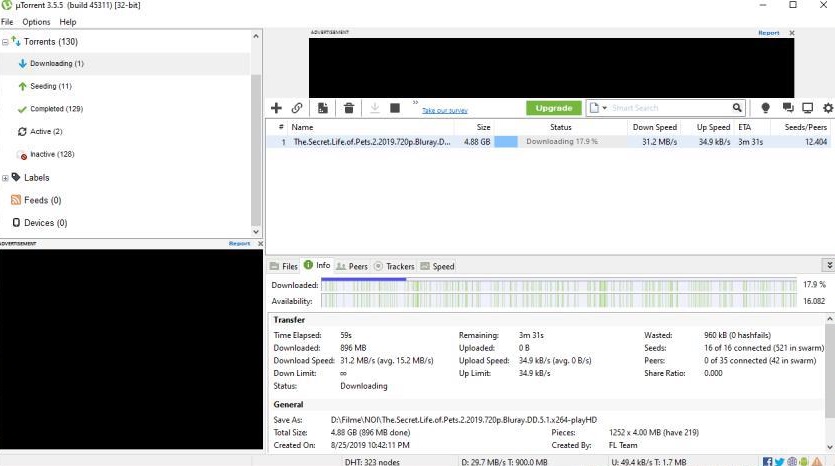 Maximum achieved speed was 33.5 Mbps.
What makes a man happy if not a good ISP and good internet speed? I suppose now that my rig is finally complete with this final addition.
New Router
I received a free router AC10 1200Mbps Wifi Router from Banggood. I did a nice review on it on Youtube. 
It's a nice addition to my gear list. I actually needed something like this in order to learn more about routers. Why is it so amazing? Even though it's a cheap device, it has many features that you can play with.
Final thoughts for my rig
Look, most of the people nowadays use smartphones to do daily tasks.
Doesn't surprise me at all, since technology has advanced so much.
The performance of these devices could compare to Desktop PC's. However, and thankfully, Desktop PC technology is not left behind.
We are lucky to get better and faster PCs by the day. The only downside is our systems get outdated fast, so we need to replace parts from time to time.
If you want to build a similar rig, here are my parts. Nothing makes me happier than to share them with you!
Parts list
GIGABYTE GTX 1060 6GB WindForce 2X OC
AMD Ryzen 5 2600
G.SKILL F4 DDR4 3000 C15 2x8GB
Kingston A1000 NVMe PCIe M.2 240GB
WD Blue 1TB (2012)
Seagate Barracuda 7200.14 1TB