Google's DeepMind talks with National Grid to reduce energy consumption by 10%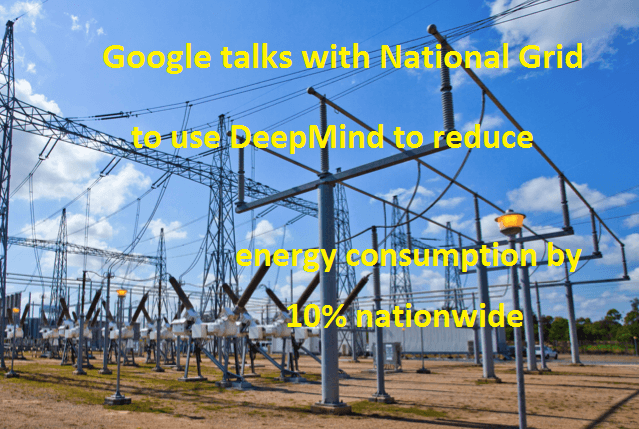 AI Lab's DeepMind, acquired by the company for pound 400 million in 2014 say they can help UK's National Grid reduce energy consumption nationwide by 10%.
Google is talking with National Grid to give them the offer to use AI to reduce that 10 percent of energy. National Grid is the UK's energy infrastructure operator.
National Grid owns electricity transmission network of power lines and electricity substations across the UK.
At the same time, the energy supply that comes from solar infrastructure, wind turbines, hydro plants, power stations is from other companies.
By using Google's AI, UK could get a boost of energy by 10%, as stated by the company. Additionally, Google's DeepMind has installed algorithms which foresee demand and supply levels.
Demis Hassabis, DeepMind's chief executive told Financial Times they would gladly help UK solve some of their problems with AI DeepMind.
National Grid has also viewed this from a positive perspective, accepting a possible cooperation in this matter.
UK's solar and wind power have become a problem recently. They don't provide enough constant energy to balance it all together across the UK.
To assess it further, wind turbines satisfies demand (which is 36.48GW currently as of 19.03.2017) with only 5.5GW. Few of the other sources are:
Coal (3.12GW),
Nuclear (6.84GW),
CCGT – Combined Cycle Gas Turbines (13.56GW),
Pumped hydroelectric stations used for a short time (1.17GW);
Small Hydroelectric stations (1.28GW);
Biomass (2.03GW);
There are no values for solar energy at the moment.
Google has used DeepMind to reduce the energy consumption of their enormous cooling systems of their data centres by 40%. Thus decreasing total energy consumption by 15%
DeepMind worked in their data centres so why not try it on a bigger project? Like National Grid.
In the event that Google succeeds to persuade National Grid to use their algorithms, they will proceed to integrate it into other areas, like healthcare, transportation.
Other countries will use Google's AI – DeepMind because they are facing issues to reduce energy consumption as well.