Blamads Scam!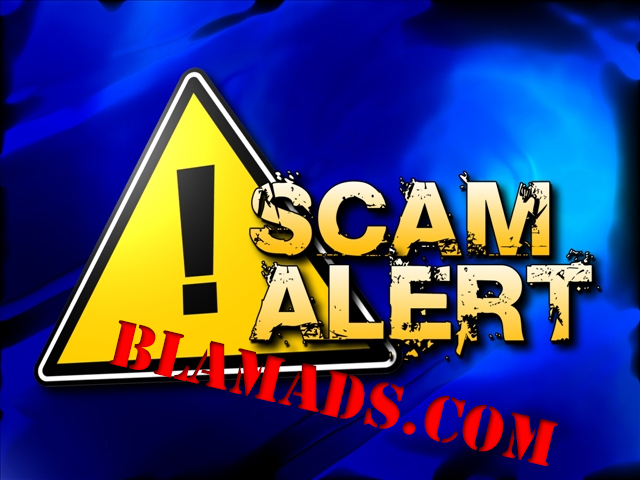 If you are viewing this post right now, it means you have not been paid by Blamads for at least few months. I am in the same hole as you are as I have not been paid for at least 4 months.
Blamads  always had this payment problem but since june things have gotten worse. I assume you tried to contact Blamads support many many times with the same reply from affiliate managers: "WE ARE WORKING ON IT" and in the end still not getting paid. Since I have tried myself aprox 20 times to contact Blamads affiliate managers, payment managers, even the boss manager Mr.Ryan Eagle, the issue was still not solve. I decided I would review BLAMADS as SCAM because they simply do not pay no matter what you would do. I am waiting for at least $200 to get paid since August and stopped earning anything else with their company thinking this issue might be solved; I was wrong.
I tried contacting my Affiliate manager to solve this problem after opening a ticket. I was unfortunately got an answer to try to solve this with Blamads Payments support.
I sent of course emails to Blamads payments to try to solve this matter in a peaceful way.
The conversation goes like this: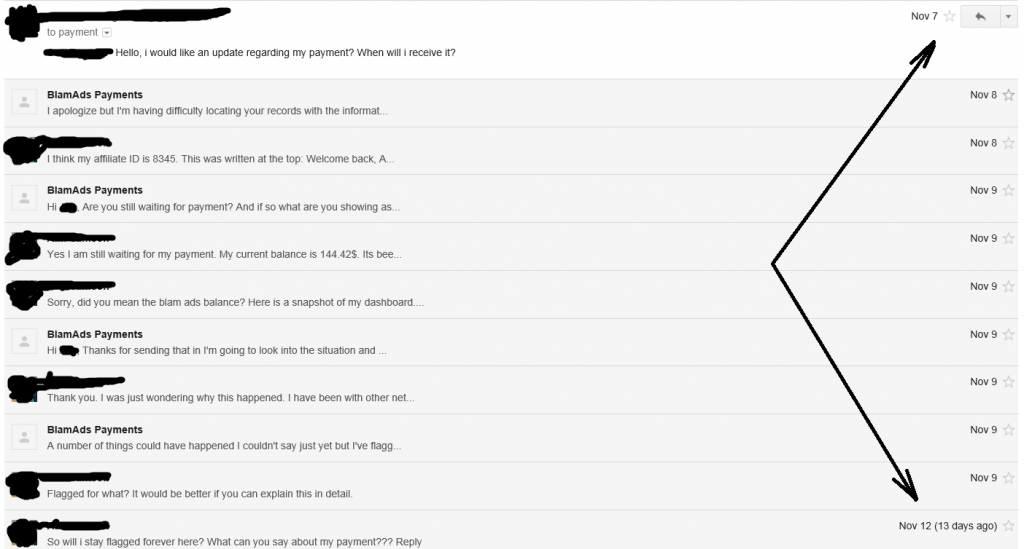 As you can see I asked for an update of my payment and giving them my account detail.  The situation then changed 90* to something unexpected such as "Flagging your account because the situation of payments could not be verified as soon as possible". I mean Seriously, they cannot fix something as simple as payment management of users? That is one weak point of a company there.
A second screenshot:

The conversation continued forth with them, this time them telling me if I am sure I reached my threshold for the pay period (i'm really sure I'm not that stupid to waste my time on such matters if I was not sure). The issue, of course, was not solved in the end as the last email sent by them was 11 days ago (current date the post was added is 25 / November / 2012) and asking me to be patient as they will try to solve this matter.
As any normal marketer, I searched for Mr. Ryan's email in order to talk directly to him in order for my issue to be solved.
As disappointed as I could be, Mr. Ryan was providing me the same answers but in a more direct way "Would you like me to solve your matter personally?"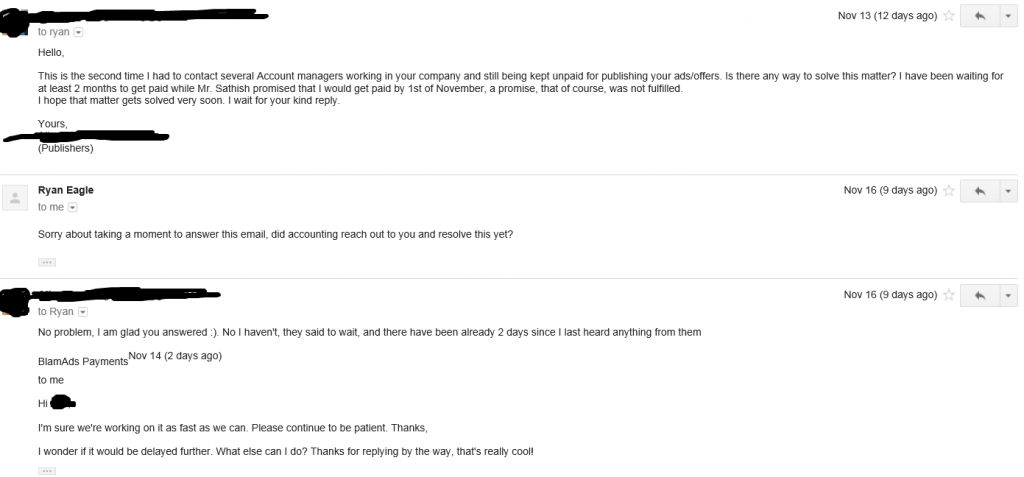 The last time Mr.Ryan replied to me was on 21 November. Since then I had not received any response and my payment is still yet to be processed. I honestly don't care anymore about Blamads company and I will definitely stop working for them from now on. I just wanted to inform good people like yourself there are many other companies that are 100x much better and faster in payment processing.
Some examples are :
I use these two and I never had a problem being paid. The links I provided have no referral link as I don 't like tricking people.
To end this matter with Blamads Scam I will provide you some websites that might prove that this company did not pay anyone for a few months straight:
http://forums.digitalpoint.com/showthread.php?t=2495673
http://www.warriorforum.com/ad-networks-cpa-cpm-cpl-millionaire-makers/495372-blamads-incentive-cpa-network-scam.html
http://forums.digitalpoint.com/showthread.php?t=2575824
http://forums.digitalpoint.com/showthread.php?t=2503624
I have paused the post until 11 January 2013, thinking I would get some response whatsoever regarding me payment. I did not get, so I decided it is true. BLAMADS IS SCAM and no one should join them ever ! Please share this everywhere please, don't let your friends be screwed by these thieves.
I hope you notice other people of this Blamads Scam as soon as possible and not let others fall into their trap as we did. Thank you for reading this and I hope you have a great day!
 UPDATE: Ryan Eagle responded to my Emails after a month and this time had to say "I will ask the account department to pay you right away". Well, its been like 1 week after getting that response and still no payment. Looks like I have to stop working with them and its time that I make you people aware that you are never going to get paid. BlamAds is going down in the scam list!