WW2 Games
This post is about my top WW2 Games that I am currently playing for fun and WW2 Games that I plan on playing (or played in the past). I always loved WW2 Games, no matter what genre (shooter, rts, mmoarcade etc) because they provide the adrenaline needed for one to have fun.
While some WW2 games just have an invented story, others have history accuracy story that teaches those who don't know much about how WW2 was. Long story short, I will proceed in talking about my currently top 2 WW2 games that I'm playing.
 MY TOP 2
WW2 GAMES
 SNIPER ELITE V2
WORLD OF TANKS
SNIPER ELITE V2
In my point of view, SNIPER ELITE V2 is a very entertaining game, with wonderful graphics, WW2 era story,  a large number of control possibilities, resembles RED FACTION in some way and the effects are truly astounding. I have to admit, if the game did not have the slow motion bullet cam and to be able to show X RAY organs in enemies exploding, I would have uninstalled this game right away!! What is more exciting than sitting on a building and shoot 3 enemies at 600m distance and then relocate, scout again, shoot some more.
The game has one serious issue, limited terrain; it is not an open world like Call of duty series (if you could call these open worlds). Other thank that, the gameplay is great, especially when ballistics come into account. To be able to shoot with your sniper in a realistic mode, ballistic feature makes sure your bullets don't go arcadey mode (means your bullet does not go straight / gravity comes into account) which is incredible. You can equip any guns, enemy guns, pistols, grenades. I personally recommend this game to everyone!
To play the game you have to either buy it or download it from torrents.
 SCREENSHOTS FROM THE GAME:
WORLD OF TANKS
World of tanks is a MMO-ARCADE type game that I have been playing this game since beta and still playing it every day. The game becomes addictive after a while so be careful if you want to try it! You don't have to buy the game to play it, it's completely free so if you want to try it, head on to their official site and download the game.
As the name implies, the game is about, what else, TANKS. You have a huge variety of tank choosing options (over 200 tanks to try),  from different nations. Currently there are the German tanks, American tanks, Chinese tanks (soon), British tanks, French tanks and Russian tanks. The tanks are not very modern, and are from 1930 – 1960 (I don't know how correct it is).
Tanks start from low tiers and move up to higher tiers (10 being maximum)
For example tier 1 is the weakest tank from all WW2 era and tier 10 is the strongest and the  newest. Tier matchmakings are limited to 2 tiers above/below your tier and can go higher or lower when in platoons with friends.
TO FIND MORE INFORMATION ABOUT THE GAME YOU CAN VISIT:
http://worldoftanks.com/game/guide/en/general/frequently_asked_questions#a4
http://wiki.worldoftanks.com/Main_Page
The game is fairly easy to play, and does not require much knowledge but basic map consultance and team/individual tactics. 15 real humans vs 15 real humans is a hell'uv'a'battle and if you do a mistake, it can cost your team's victory. You don't have to be a tactician (not even I am one) but basic flank cover would bring you lots of credits and experience (credits and experience are the currency needed to buy tanks, you can also buy their gold).
I have been playing since beta and no other tank game has ever caught my attention more than World of tanks. It still has many bugs but not big ones that literally kill your game and the graphics are acceptable although they aren't using a multi-core system.
To play their game, you only have to go to the specific region you belong to:
http://worldoftanks.ru/ – Russia
http://worldoftanks.eu/ – Europe
http://worldoftanks.com/ – North America
http://worldoftanks-sea.com/ – Southeast Asia
http://worldoftanks.kr/ – Republic of Korea
Create an account, download a game and start having fun
One thing i did not mention, the game has CLAN WAR system (something similar to mmorpg clan wars where certain clans occupy territories)
 SCREENSHOTS FROM THE GAME: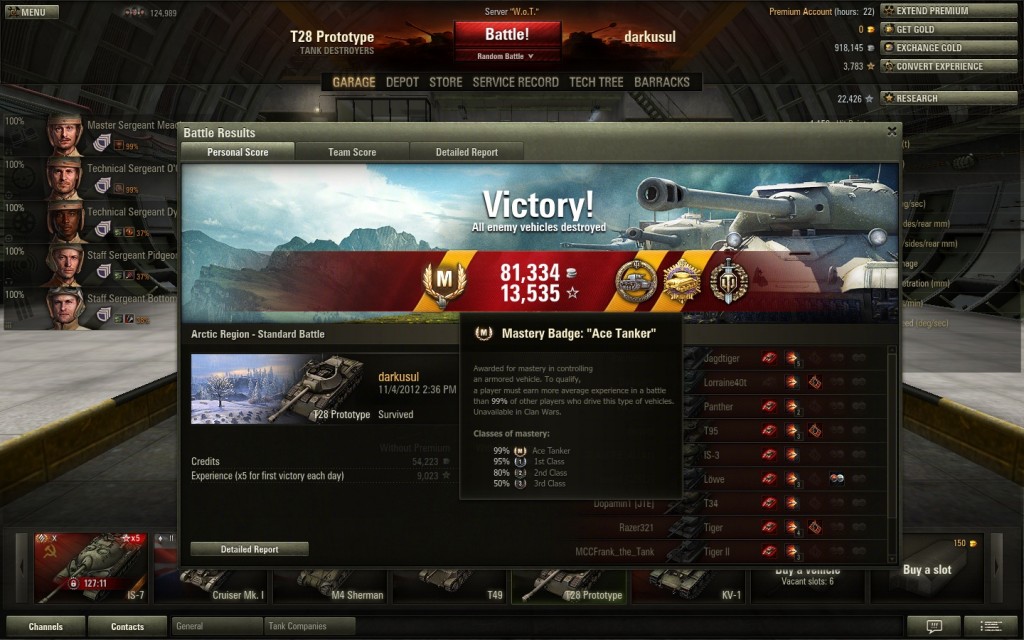 Other WW2 GAMES i played / decide to play later:
EMPIRE DAWN OF THE MODERN WORLD

EMPIRE EARTH

CALL OF DUTY  1  & 2 series

MEDAL OF HONOR

RED ORCHESTRA

HEROES & GENERALS

COMMANDOS

MEN OF WAR (all series)

AXIS AND ALLIES

COMPANY OF HEROES

FACES OF WAR

THE SABOTEUR
All are super awesome and i personally recommend every single one. Have fun playing WW2 GAMES!