Race to the bottom – A comparison of PCBWay and JLCPCB circuit boards in 2019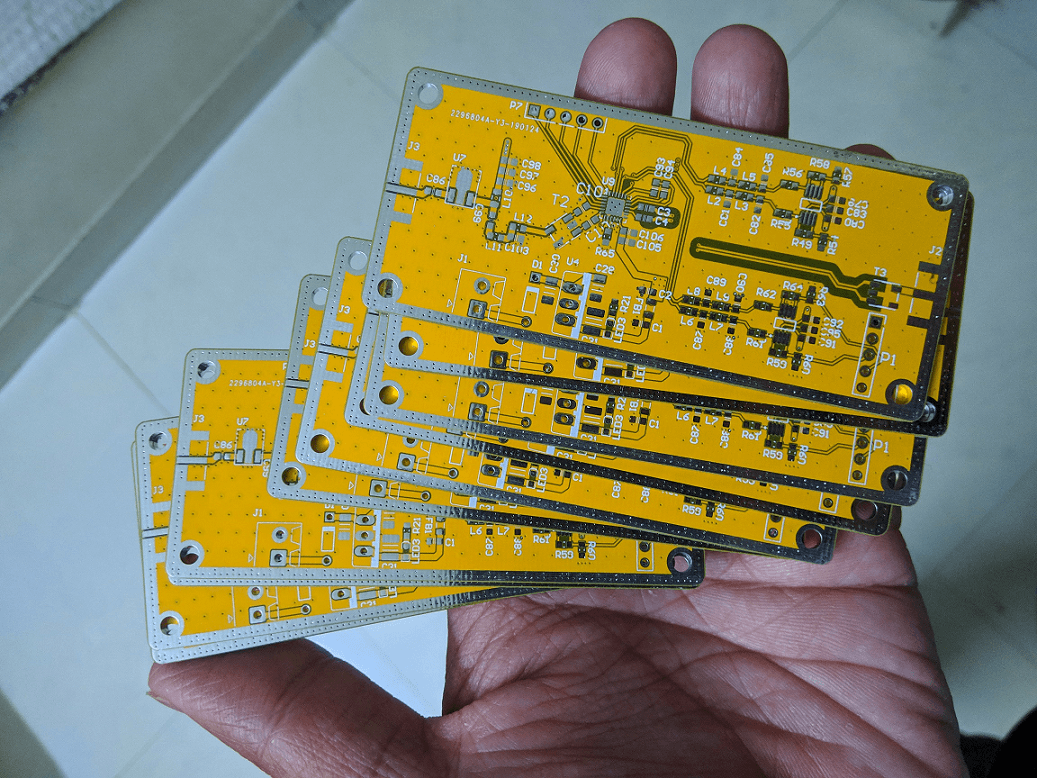 Making circuit boards used to be an expensive affair several years ago. Today, you can have a bunch of 2 layer or even 4 layer PCB done for less than $30. Thanks to the services like PCBWay and JLCPCB (the services that I have tried) that have allowed hobbyists to have professional looking circuit boards without making a dent in their pockets. In a race to the bottom, many other services are hopping in and offering even lower prices. So low, that you can have 2 layer PCBs with solder-mask having colour of your choice for a mere $2.
I have been a fan of JLCPCB for quite a while. I had several designs fabricated from them. A couple of months ago, they charged extra for a different colour solder-mask. Apparently, they no longer do so. You can have any solder-mask colour at no added cost. The waiver on solder-mask colour is a result of strong competition from PCBWay.
Overview on prices
PCBWay offers 10 quantity of 2 layer PCB for a price of $5 plus shipping. On the other hand, JLCPCB offers 5 quantity of 2 layer PCB for a price of  $2 plus shipping. Jumping up the quantity to 10 results in the same price of $5 on JLCPCB. Price-wise, both fabs offer same price when it comes to 2 layers PCBs.
Now, when you want to order 10 quantity of 4 layer PCB within 100mm x 100mm size, JLCPCB is a winner. PCBWay quotes a price of $49 and JLCPCB quotes a price $20 less, coming at $29. Once again, there is no extra cost when choosing the colour of solder-mask. In fact, you can have ENIG surface finish on JLCPCB and it will be still under $49.
Inspecting the PCB
Having ordered from both the PCB services, I can show you how they look. I had two different designs. I sent one to PCBWay and the other to JLCPCB. In both places, I chose the black solder-mask.
The black solder-mask on the PCBWay output is glossy. On the other hand, JLCPCB gives a matte black finish. One point to note though, PCBWay gives you a choice to select matte black whereas, JLCPCB offers no such choice.
The silkscreen text is sufficiently crisp in both PCBs and I have no particular complaint. Honestly, the text looks crisp on matte finish so my next order from PCBWay is definitely going to be a matte black.
Edges look very well cut out on the JLCPCB. On the contrary, PCBWay might be doing a V-score cut to break the individual PCBs apart resulting in a rough edge. That is no big deal for me.
Conclusion
Hobbyists are at a great advantage here. To be able to get professional looking PCBs made for so little is a good step forward. Along with cheap PCBs, the PCBA service is also slowly looking to appeal the hobbyists. I would not be surprised if these PCB fabs started offering PCB assembly service for dirt cheap prices. Fabs should also start offering high frequency substrates at an affordable price because none of them I know do so. I know that PCBWay does have additional fabrication capabilities but they come at a greater cost.
Nonetheless, the race to the bottom has brought many benefits to many hobbyists like me and I hope it continues to progress in the right direction.
In the future, I might review and compare PCBWay assembly service with that offered by JLCPCB. (I hope you are reading this. Yes you, PCBWay and JLCPCB :P) Also, if you have any questions, let me know and I will try to answer them.
Incoming search terms: