Want to earn money by helping people? Google Helpouts invite is here!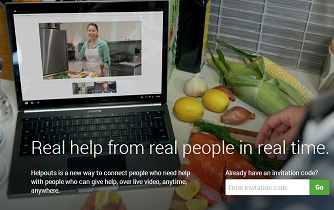 Do you have technical experience or do you have knowledge about certain things? But that's not all, do you want to earn money by utilizing that experience by helping out someone?
If you answered yes to both of those questions it is time for you to check the new 'Helpouts' brought by Google.
Google Helpouts aims at letting people help other people having trouble doing certain tasks. It could be someone's homework, it could be a lady having problem with her computer or a phone. If you can help her out with her problem, Google will pay you. Helpouts has not been launched for everyone yet, but it is expected to roll out in near future (perhaps a few months from now).
If you are interested, you can go ahead and leave your name and email on helpouts page asking for an invitation. There are several categories where you can click and show your expertise. Some of the registered users would get an invite from Google to join the Helpouts community.
The transactions happening on Google helpouts page would be done with Google wallet. Google will charge a 20% fee on each transaction.
Currently, the invitations are very limited. In case we find any Google Helpouts invites we will be happy to send some over to you. Please leave your email addresses in the comments in case you want Google Helpouts invites