DIY Learn How to Install Home Security Cameras (with charts)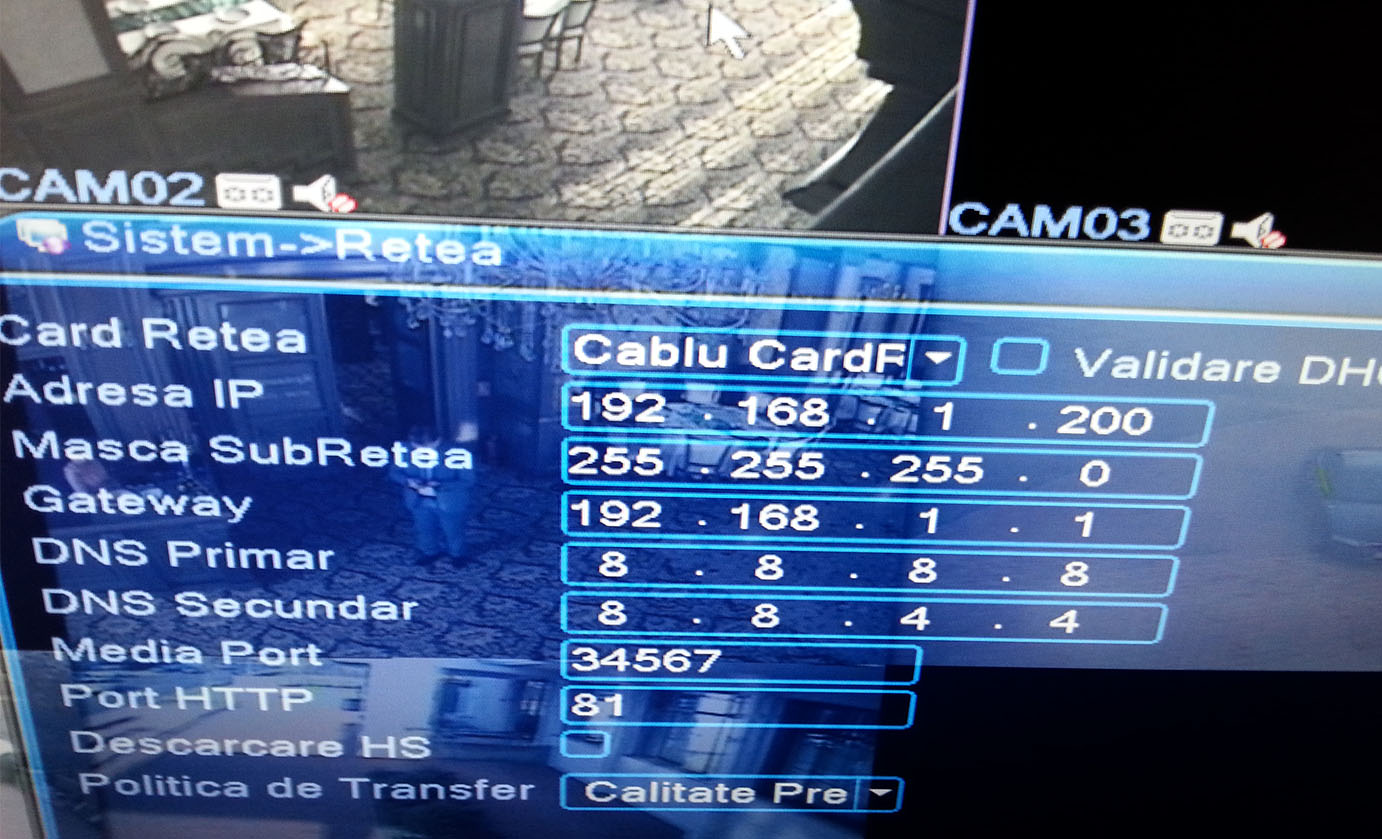 In my last post How to install surveillance cameras, I wrote about the basics for installing a surveillance system for your home. This article will be a following of that post and will take installing of home security cameras to the next step. Did you buy outdoor security cameras? Or indoor? Don't worry, I have you covered.
Before you install a home security system at all, usually it is done with a 3rd party company. Why? Almost all governments created laws now that practically "punish" those that don't have risk analysis.
Click here to see a brief explanation of what risk analysis is. In what way? When an unhappy incident happens, take robbery, for example, the recordings will have no value unless the client got risk analysis from the 3rd party company. If you just want to install it for yourself, I will teach you how to install home security cameras in 10 easy steps.
#1 Figure out what type of system you want
Do you want to install outdoor or indoor and what brand?  Based on what I installed until now, Hikvision is the best home security cameras brand. Why? They simply have good quality stuff in their inventory.
Tools needed for a 4 Channel Setup
Cordless Screwdriver Tool – I use DEWALT Impact Driver Kit that I bought from Amazon for almost 4 years and it's still doing its job.
Cordless Rotary Hammer – I'm using Makita Lithium-Ion Cordless Rotary Hammer that I also bought from Amazon and anything else that is required to drill a hole. Make sure you measure the width of your cable and figure out what size the hole needs to be.
These two will help you with other tasks so it's nice to have them in the household since they are very durable.
Screws and the required items for wall/another surface installment;
Insulation Tape – any type of insulation tape is good;
4x Video Baluns – the simple ones are good enough but for a long-lasting connection, I recommend RG6 connectors + RG6 cable. However, this requires a compression tool and it might not be that useful in the future unless you plan to install cameras in other locations as well;
All-in-one Compression Tool MASTER (for BNC, F, IEC, RCA) – this is required if you use RG59 – RG6 connectors;
8x 12V DC Power Jack male connectors– used to connect the camera's female connector (think of it as a couple);
12V DC power supply (220V input, 12V DC output) 5A for 4 cameras (each camera takes as much as 1A when in full consumption mode – InfraRed activated at night). If you have more than 4 cameras, consider buying a 10A to 20A or even 25A power supply;
RJ45 patch cord;
RG6 cable or RG59 depends on what you want to use (don't buy a full 500 meters spool – you don't need that much);
2wires x1.5diameter cable to connect 12V DC Power Jack male connectors and power up the cameras;
3wires x2.5diameter or thicker current cable to connect the UPS to the mains power supply;
Screwdriver;
Cutter (steel cutter preferably);
Four (number of cameras) x 10×10 electrical installation box;
Insulation Stripper.
#2 Components and the connection charts
For 4 cameras, 8 cameras, NVR, NVR with PoE, Systems can go to very complex levels, so I hope it's not the case for you because it's going to be hard.
Whole home security cameras kit should contain
4 x home security cameras for indoor or outdoor use (for indoor, buy dome type cameras, for outdoor buy bullet type cameras);
1 x DVR 4 Channels (analog BNC connectors);
1 x AVR/ UPS (UPS are more recommended as it stores 220V for ~30mins after the power is out). A good UPS that I always recommend to my clients is the APC UPS Battery Backup & Surge Protector with AVR

that I buy from Amazon.

1 x Surveillance HDD 4TB  min 5400Rpm for longer record times.
Big metal box to fit the DVR and the AVR/ UPS to prevent overheating (if you install the system in the attic).
Connection Charts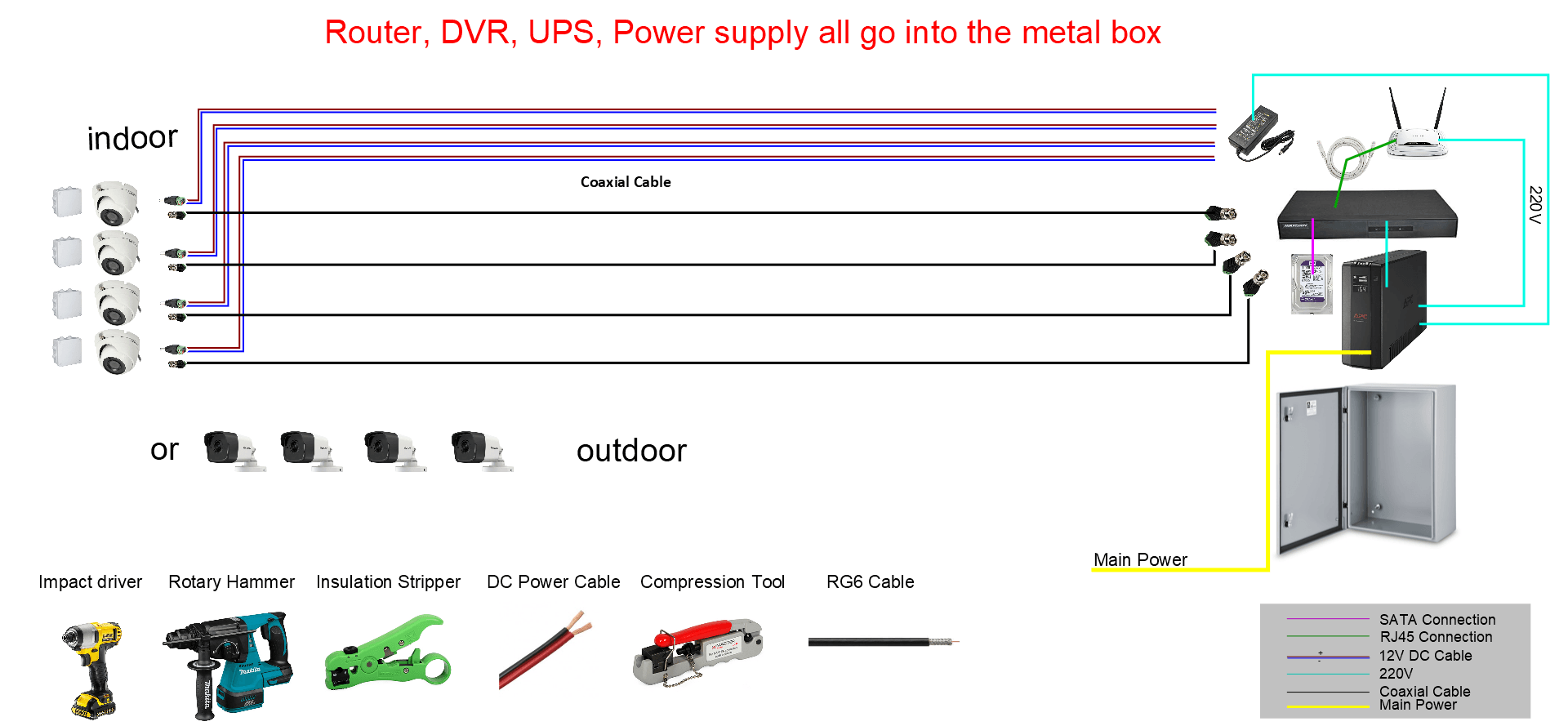 #3 Price related
It's your choice really. With so many systems on the market, it's easy to choose a cheap but good system or expensive but high-end system.
For home security cameras, however, I recommend a cheap but good system.
"But Nuclearrambo, how can it be cheap and good at the same time" quote by a random reader. I tell you how… Hikvision offers quality from good to best. Let me show you a system that I would build for my home:
4 x Home Security Cameras;
For indoor, I would use: Dome type Hikvision camera. Click here to get it from Amazon.
For outdoor, I would use: Bullet type Hikvision camera. Click here to get it from Amazon.
1 x DVR 8 Channels Hikvision. Why 8 Channels? If I am investing some money anyway, I would rather be able to add more cameras in the future if I have to. The best one I would recommend to my clients is this one on amazon;
1 x APC UPS Battery Backup & Surge Protector with AVR;
1 x Surveillance HDD 4TB  min 5400Rpm for longer record times. Get it from here;
Big metal box to fit the DVR and the AVR/ UPS to prevent overheating (if you install the system in the attic);
The rest of the tools that I described at #1.
#4 Common Problems
Q: There is no video signal on one of my cameras

A: Usually it's a problem with a malfunctioning transformer (12V), if not check the BNC connector, it should be tight on the end of the cable.

If that is not the case, try plugging in the BNC connector to another slot at the back of the DVR as it might be the case of a malfunctioning BNC slot.Another cause is the death of the camera.

The last, and the worst thing that could be is one of the rats bit the cable located in the attic/ other place. Why is it the worst thing? Because it would mean you have to replace the cable itself or identify where it was chewed.

Q: My DVR does not record anymore

A: The HDD can get bad sectors from continous usage. That means it might die soon.

If the HDD works as it should, the power supply that powers up the DVR might be too weak to send enough jucie to the HDD.

Make sure you set the recording options correctly.

Q: I need to connect two more home security cameras. How can i do it?

A: Analog cameras are limited to the number of BNC slots that the DVR has. For example, a 4Channel DVR can have 4 analog cameras. However, we can add up to two IP cameras on the DVR depending on the system.
#5 Conclusion
Home security cameras have climbed the ladder of technology pretty fast. Price for quality is affordable so anyone should be able to install them for their own home. Soon, everyone will end up protecting their homes with top-notch technologies and never worry about burglars ever again. Don't you think?
To find out more about how to use IVMS-4200 application (which work like any other application for security systems) read my other post called Guide for Hikvision IVMS 4200 client software from A to Z