FREE RECHARGE scam – The complete story
If you have been using facebook, you might have noticed a sudden increase in spam regarding the free recharge. Many of your friends might have posted links which when clicked can take you to websites where they ask you to perform a series of steps in order to get your free recharge. The story of "Free recharge scam" will make you aware of the current social media threat!
To be very BLUNT, the owners are making a fool out of you.
The facebook free recharge scam is investigated and discussed in detail to understand the dangers that these sites can pose. Lets begin by understanding the first step of this facebook recharge scam.
The spammer creates a page so convincing that an average internet user would really think that he would get free recharge. Ofcourse who would not want free recharge for their mobile phones.
The page is constructed in such a way, that it must go viral over the whole social media. The smart trick here is, in order to proceed to next step, you must "share" the link with 5 to 10 of your facebook friends. After that, you must also Like the page, but clicking the "Like" button.
The problem begins over here, when the visitor shares this link with 5 of his friends. Everyone who is is a "friend" of those 5 people, can see that link. They would tempted to click on the link and acquire some free recharge. In this process, one single visitor is able to drive several friends to that "free recharge website".
When you click on the "Next" button you will showed an advertisement. This advertisements earn the author's huge amounts of money!

You will be asked to enter personal details, passwords, etc. in order to get your mobile phone recharged with the promised amount. But this never happens! The main purpose of such website is:
Gather personal information which can be sold to spam network operators (Hackers)

Gather phone numbers, which are sold to advertising companies. That is one of the reasons why you might get unwanted calls and sms. 

Phishing

Earning money by showing you advertisements on their "recharge scam" websites. 
One of the popular "free recharge" scam websites floating around, have such a kind of appearance, and this kind of website design is followed by almost all other scam websites. So please take a nice look at this one!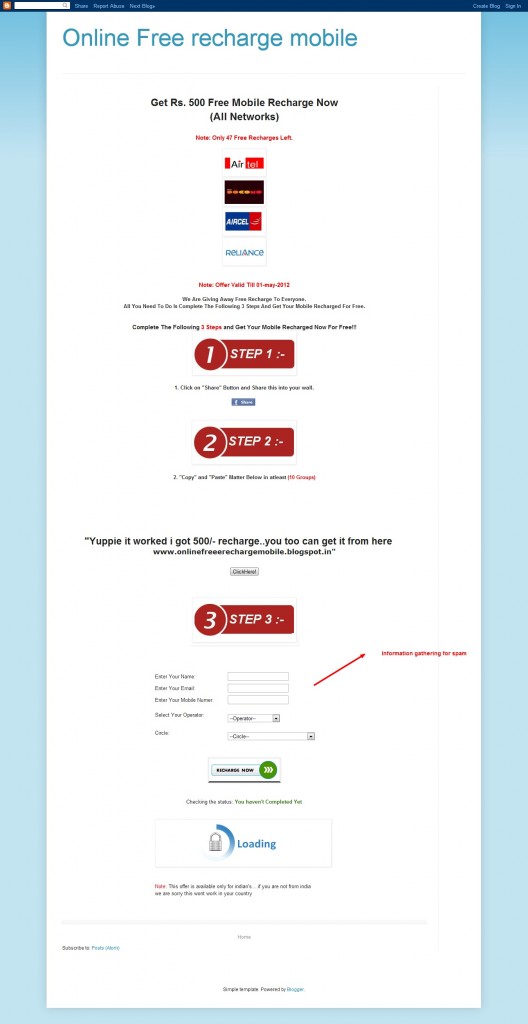 All these factors can compromise your online reputation and also real world identity, which can be very dangerous when it comes to matter of carrier and social life. Therefore, to conclude, I request all the readers to share this post on facebook and google plus, to make your friends aware of such a kind of scam. 
UPDATE:
There has been a newer type of SPAM going around on facebook. This time, the hackers have integrated the phishing content into the facebook application. Because of integration of the recharge scam page into facebook application, people are fooled and are made to think that facebook endorses the product. But this is not the case at all. The facebook application looks like this: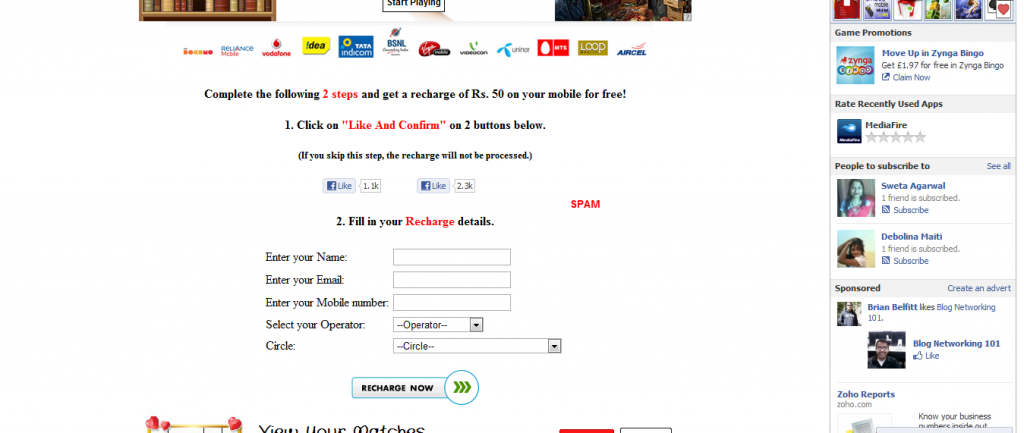 After completing this step, you are asked to complete a survey/offer.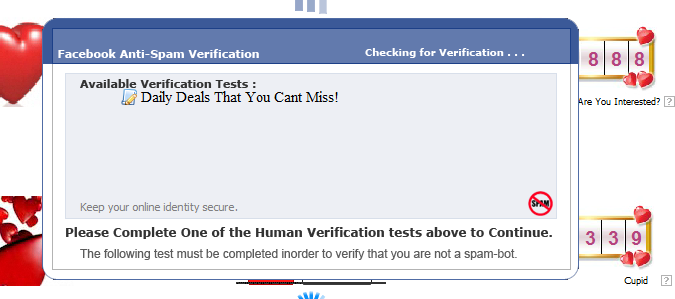 Completing this survey involves submitting your personal information to unknown companies. No body wants to compromise their personal information, to prevent this from happening, please do not fall for such fake offers or facebook applications. Everybody loves free stuff, but in reality
NOTHING IS FREE
We have found a legitimate method of getting free recharge. If you have not checked out our latest post, then you should press this
Thank you for reading this post!
Incoming search terms: