Samsung Galaxy S4 leaked specs (CONFIRMED)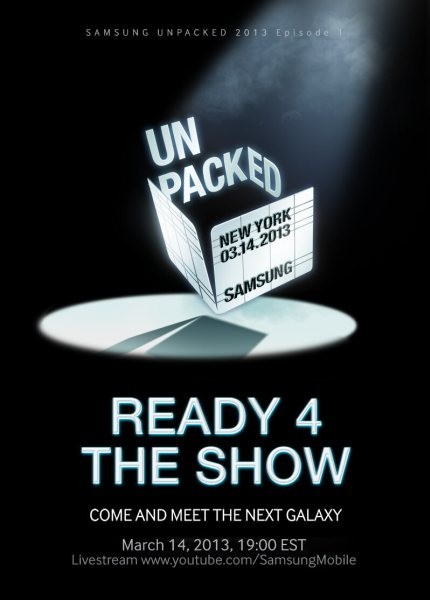 Samsung Galaxy S3 was released just a few months ago and while it is still holding the top position when it comes to speed, the new Galaxy s4 details get leaked on the internet. Samsung Galaxy S3 was the fastest android phone on the market when it was released with a very big screen of 4.8 inches and having a very powerful electronics technology inside, it beat every other android phone! Now that the prices began to drop a little bit, people are buying the Samsung Galaxy S3 just to keep up with the technology! The technology gets faster by the day and its true, because Samsung is working on Galaxy S4 (Galaxy S IV). You will be amazed as you go through the specifications of the Samsung Galaxy S4!
UPDATE #3
Samsung recently announced that they will be announcing Samsung Galaxy S4 on 14th March 2013. Although nothing much has been declared by Samsung, they have definitely made people pay attention to them.
The main reasons for Samsung Galaxy S4 being so important is because it will go head to head with iPhone 5S or iPhone 6 and also the new 1080p display and 8 core Exynos processor which will make this device the fastest smartphone in the market. Lets look forward to this event!
UPDATE #2
Samsung recently announced the new Exynos 5 SoC which is basically a octa-core processor. It contains 2 different technologies in it and the workload will be processed on different cores depending on the workload.
The SoC Exynos 5 contains four A15 cores and four A7 cores. When the user is viewing emails, browsing the web, it is possible to distribute the load on lower powered A7 cores, while using intensive applications such as games, all the cores can be put to use. Photo editting, video recording can be done on the A15 cores while putting A7 cores on a different task. The new processor also means better power management which can put un used cores in sleep mode drawing very little power.
We expect to see this processor being used in the new Samsung Galaxy S4 and up coming devices.
UPDATE:
Samsung recently posted a rather intriguing video which supposedly sent out a message to everyone saying something new is on its way. The video is itself not very much clear but it gives us hope and invokes excitement about something new. Could it be a TV, a new innovation in technology or who knows! Check out the short video below.

Samsung Galaxy S 4 Specifications
Screen Size and Resolution
So, previous few phones that came from samsung had large screens! The Galaxy S3 had a 4.8″ screen, the Galaxy note had a 5.3″ screen, the Galaxy note 2 has a 5.5″ screen! Does that mean, Galaxy S4 will have a even bigger screen? OMG!
According to a source in South Korea, the Samsung Galaxy S4 will have a 4.99″ screen. So this one is bigger than the previous version of Galaxy S series! The trend is bigger screens every generation. A bigger screen definitely means pumped up processor power.
The Galaxy S3 had 720p HD video capabilities on its screen, the Galaxy S4 is going to have 1080p video capabilities.
Pumped up video capabilities and larger screen is not all! The screen will have a pixel density of 445 ppi as compared to 326 ppi of iPhone 5 and 306 ppi of the Galaxy S3. The higher the pixel density, the smoother is the text and video going to appear. Small text on webpages will appear to be more crisp and readable now!
Processor and GPU
The source from south Korea also told us that the processor power will outperform current Google Nexus's processor! It just gets faster! The new samsung made Nexus 10 uses Exynos 5 processor which contain 2 Cortex A15 with clock frequency of 1.7GHz. Samsung could stick with this same processor or we could expect even bigger quad core processor with a sexy new Mali-658 GPU! That becomes a Octacore GPU. The problem that could arise is, it can drain the battery quickly. Although we do not have much information about the GPU/CPU we will need to wait until more information comes out.
More processing power means better gaming performance and very rich and smooth webpage rendering. Web content having flash and javascript stuffed in are supposed to render more quickly than any other phone on the market.
The 13 MP Camera
The Samsung Galaxy note 2 was supposed to have a 13 Mega Pixel camera, but since Sony couldn't manufacture enough sensors they had to stick with the old 8 Mega Pixel sensor. So it is very plausible that new Galaxy S4 could have a 13 Mega pixel camera!
Final Thoughts
Samsung has avoided to talk anything about the developments of Samsung Galaxy S4, but it is highly possible that they are definitely working on it! The new phone is expected to be launched in mid 2013 in a price range of $700 to $900. It is possible that Samsung would unveil Galaxy S4 in CES 2013 which comes in Q2! So, we have to wait a pretty long time.
We will wait and watch! Meanwhile you can share this awesome story with your friends on Facebook, twitter, Google+ and pinterest and elsewhere!
Incoming search terms: