Alarm system wiring – DYI – Paradox Wiring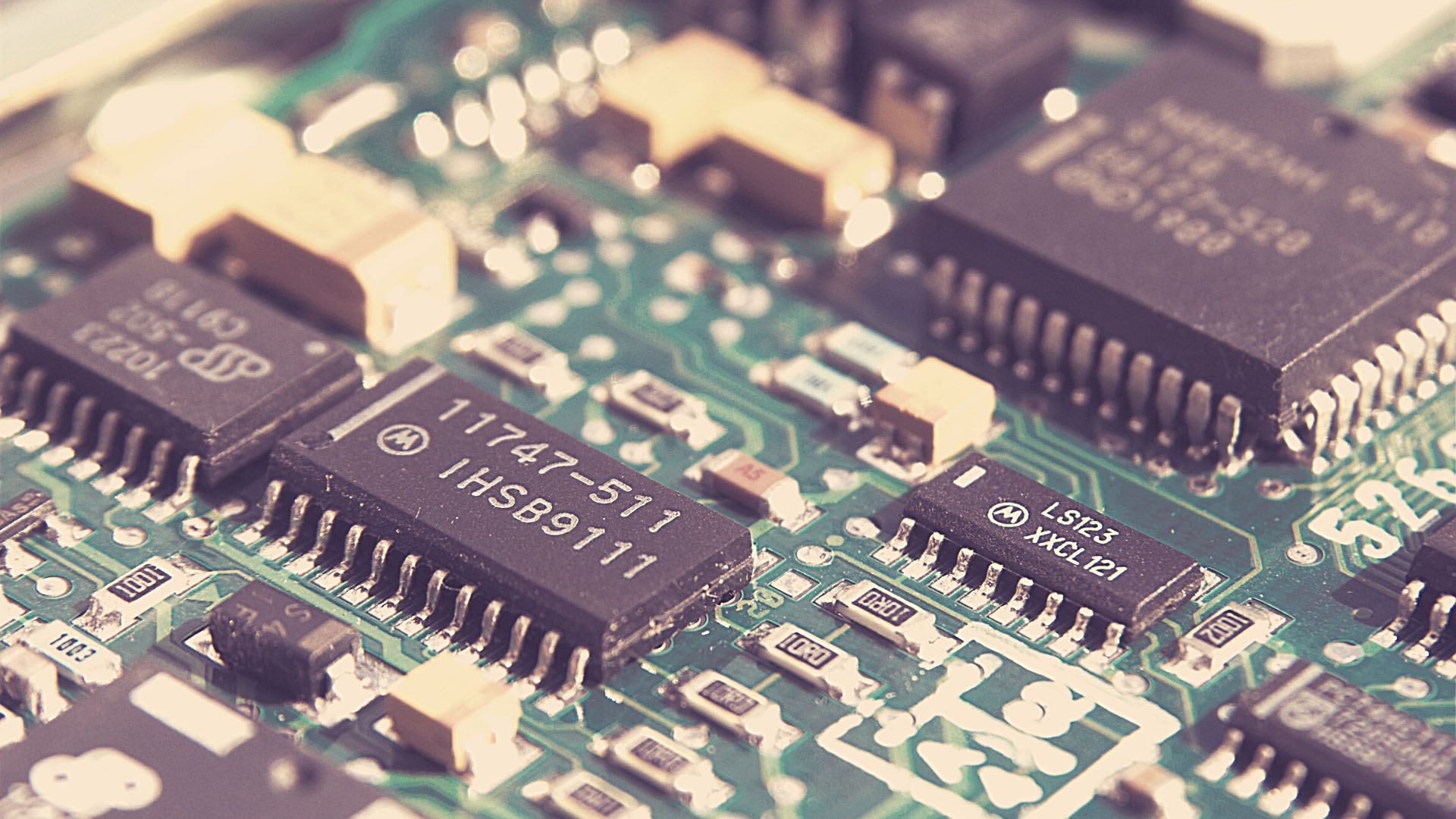 The wiring process of an alarm system is the trickiest one. Everything else is easy, but wiring is what makes it hard. I was forced to learn to install alarm systems my own way and using guides as well. Alarm systems are necessary to prevent burglars from coming in. Nowadays, surveillance CCTV cameras are not enough to prevent a burglar from going inside your home. But how to actually get such alarm system? It would be easy to hire an alarm system technician to come and install an alarm system for your house. But what if you wanted to DYI? What are the steps in order to do an efficient alarm system wiring and what components are compulsory. It is not an easy task, but i am doing my best to explain.
I am taking Paradox SP5500 alarm system as an example for the installation and wiring process.
Preparing the components
Before doing anything, make sure that all the compulsory components are in the package. Optional components are useful too, so if you have those as well, great!
Compulsory components are:
-Special metal box for alarm system;
-Alarm system panel;
-Pir sensors;
-Siren;
-Keypad;
-UPS / AVR;
-2 batteries 4Ah (7Ah) 12V DC;
Optional components are:
-RTX 3;
-Magnets;
-PCS 250, PCS 250G;
Installing the components and wiring
I won't go too deep in the installing process. There is a more comprehensive article written here about everything that needs to be done. I will concentrate more on the wiring process.
The most important thing to remember is to cut off power to the panel by turning off the fuse switch. And then take out the fuse from the SP5500 panel.
SIREN;
RED, BLACK, TAMPER, TAMPER, START 2;
PIR MOTION SENSOR;
NC

, COM (resistor

1K

,

2K

to TAMPER),

RED

, BLACK, TAMPER (resistor

1K

,

2K

to COM),  

TAMPER

;
KEYPAD;
RED, BLACK,

GREEN

,

YELLOW

;
RTX 3;
RED, BLACK,

GREEN

,

YELLOW

;
SMOKE DETECTOR;
It's important that you use resistors to identify if it's parallel zoning or not.
Do not forget to write with a marker on each specific wire that goes to the panel. Otherwise it will be hard to identify which is what.
Wiring main box and panel
Main box contains a transformer which needs to be wired to the main power.
From the transformer you need to use the AC wires to power up the panel.
Cut the brown wire as you only need yellow and blue wires.
Connect the earthing wire in the panel where it shows the earth ground symbol
Then start connecting the wires for each component:
Siren:
RED, BLACK, Z1 (TAMPER),

COM (TAMPER)

, BELL – and +

(START 2)

; for SP5500, the green wire goes to – on the BELL using a resistor.
It doesn't have to be Z1, it can be any zone you wish. But it's important that you use resistors to identify if it's parallel zoning or not.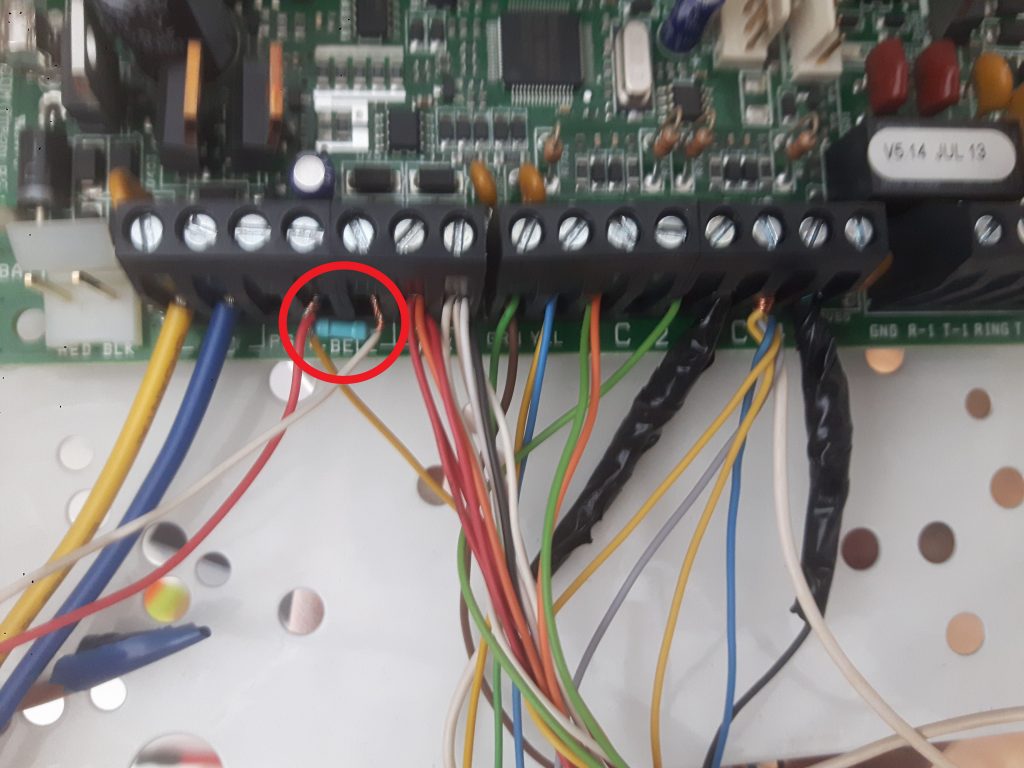 Pir motion sensor:
Z1 (NC)

, RED, BLACK, COM (TAMPER)
The keypad and the RTX 3:
RED, BLACK,

GREEN

,

YELLOW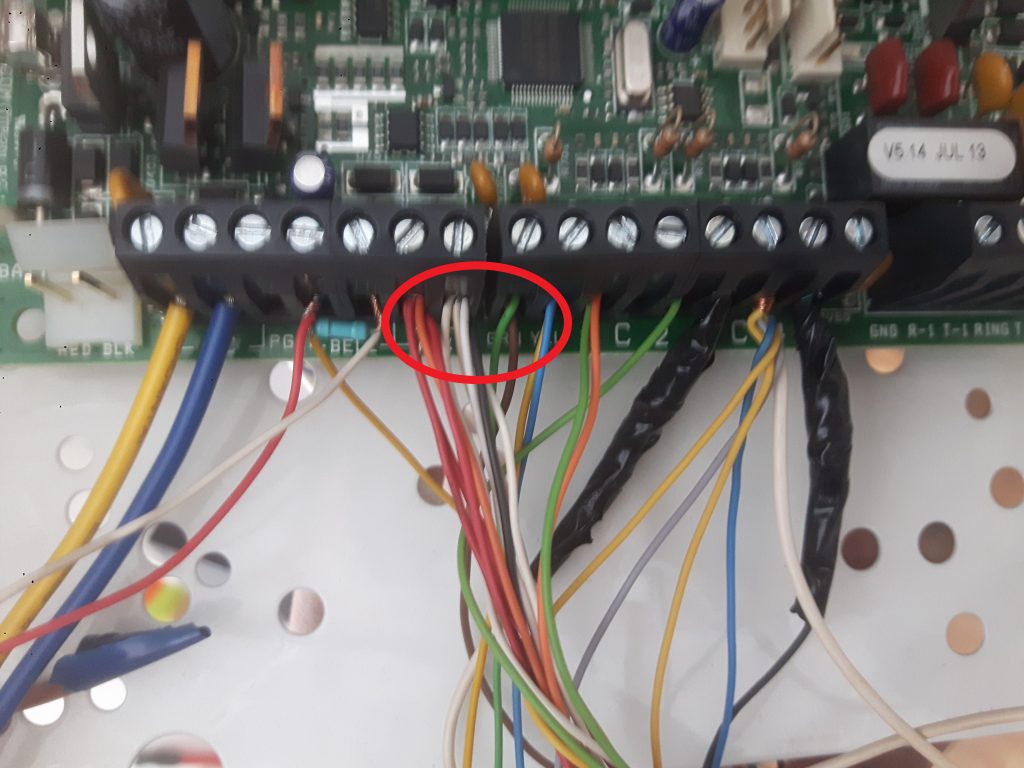 Smoke detector:
RED, BLACK,

Z1 (NC)

,  COM (TAMPER)
The complete wiring diagram of components, main box and the panel: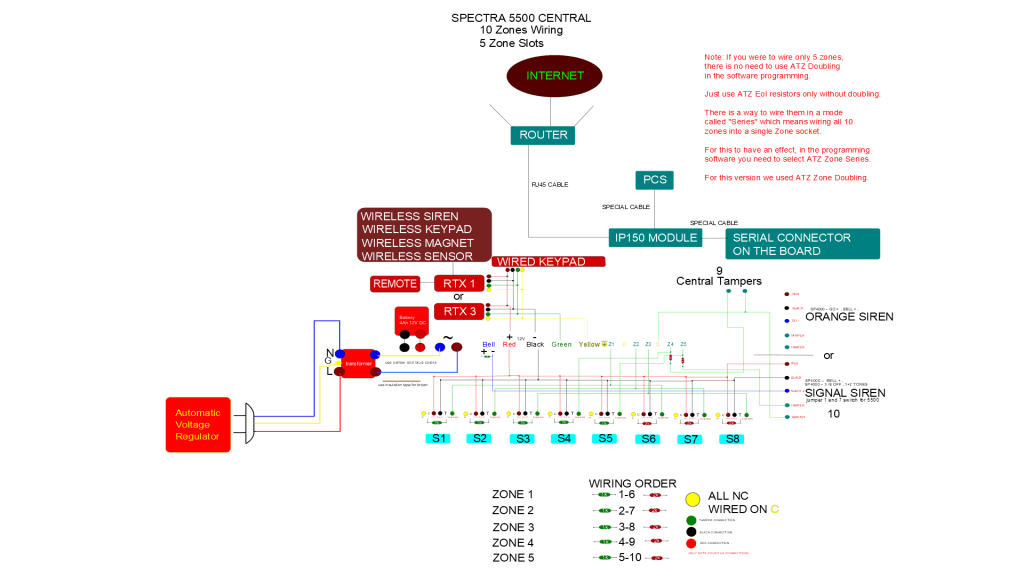 Starting up the alarm system
Check that everything is in place. This is the most important step to do after you have done the wiring process. Proceed on wiring one battery to the siren and then connect the other battery to the SP5500 board. Make sure you do it in the order that i mentioned. Turn on the fuse switch for the main power and then put the fuse for the control panel back in its place. The programming phase is described better in this article.
Incoming search terms: