What Security System Do I Need? NVR vs DVR – Comparison
Hey there, are you here because you want to know if DVR security system is better or an NVR security system might be what you need? Depending on what would you like to install, DVR's are more affordable, but NVR's can exceed the limits of what a DVR can do.
I will explain it further in the article why. First of all, let's start with the basics.
What is a DVR security system?
A DVR (digital video recorder) is an electronic gadget, with a metal case exterior used for recording surveillance footage.
To not be mistaken with DVR for TV – although the process is similar, the DVR for a surveillance security system is dedicated just for this.
Usually, the sizes vary but not by a lot. It increases along with the channel number. For 4 to 8 channels, it's going to stay the same size. From 16 to 32, the size of the current box would be too small, so they can make it bigger.
DVR's can record real-time footage up to 4K on an external storage device, an HDD, export using USB flash drives, or locally/remotely on a network. Another point to mention is the network capabilities are incredibly advanced technologically.
Almost every DVR security system has a Software App to view cameras on smartphones and PC's, Mac's etc.
We can also call this Analog because of DVR's use of Analog technology.
The number of Analog cameras that we can add to a DVR range from 4 to 32 Analog cameras with BNC connection, and many DVR's allow for 1 or 2 extra IP cameras to add.
What do you think so far? Cool huh? While Analog is good because it's affordable, network technology has advanced to a whole new level. I am talking of course about NVR security system.
How is NVR security system better?
I can't stress enough how much I would recommend an NVR security system to my clients. The amazing capabilities of an NVR are beyond my expectations as a security system installer.
NVR (network video recorder) has so many similarities to DVR's, but it's utterly godlike in its capabilities. They can store digital footage in the same way as DVR's do, except the quality by far outmatches the Analog type quality. What do I mean by that?
Like I specified a while ago, DVR's are Analog type recorders mostly. The quality of Analog type cameras is not perfect but not bad, either. It holds a balance. IP type of camera quality is flawless. The incredible system that I've seen was on the 30th of September 2019. A 4K NVR PoE (power over ethernet) with 16 PoE ports. You can check it out by clicking on this link.
I have coupled along with 9 IP cameras with 8MP resolution at 4K (that were available) and a 4K SONY TV BRAVIA. The image quality was the best I've seen so far in my 4.5 years of working in this field. Every detail in the ground, sky, as if it was all a picture, real-time recording, vivid colours, flawless quality.
I have no idea how much a system like this would cost, but Wow! Even I said Wow after I finished setting everything up.
PoE NVR's are the most amazing pieces of technology I have ever seen. Everything is plugged and play.
Steps to install a PoE NVR system
Here are the steps you need to do:
Choose cameras that allow PoE technology;
Use FTP/UTP cable and RJ45 connectors for both ends;
Plug the connectors into the cameras and NVR PoE slot;
Add a password for IP Cameras Activation;
The cameras get added automatically.
Of course, it won't end just to that. The changes you can make are endless.
Normal NVR's are the same as PoE NVR's except the power up through ethernet part. Another fantastic thing to do with DVR's and NVR's (let's take into account that NVR's can add multiple IP cameras) is to call IP cameras from different locations.
Using public addresses, a port and password, you can "call" cameras from your office and set it to record at your house.
Similarities between the DVR and NVR security systems
List of similarities between DVR and NVR
Recording Surveillance Footage at high quality exceeding 1080p
Sizes are approximately the same, although NVR's tend to be a little bigger
Advanced network capabilities, NVR is much better
External Storage Device handling
Smartphone App
Remote view and playback
Individual features such as motion detection, face detection, intruder alarm
IP65 or 66 for weather protection
Rack mounting
Cool design
Design comparison
I'm going to show you DVR and NVR security systems side by side along with their components.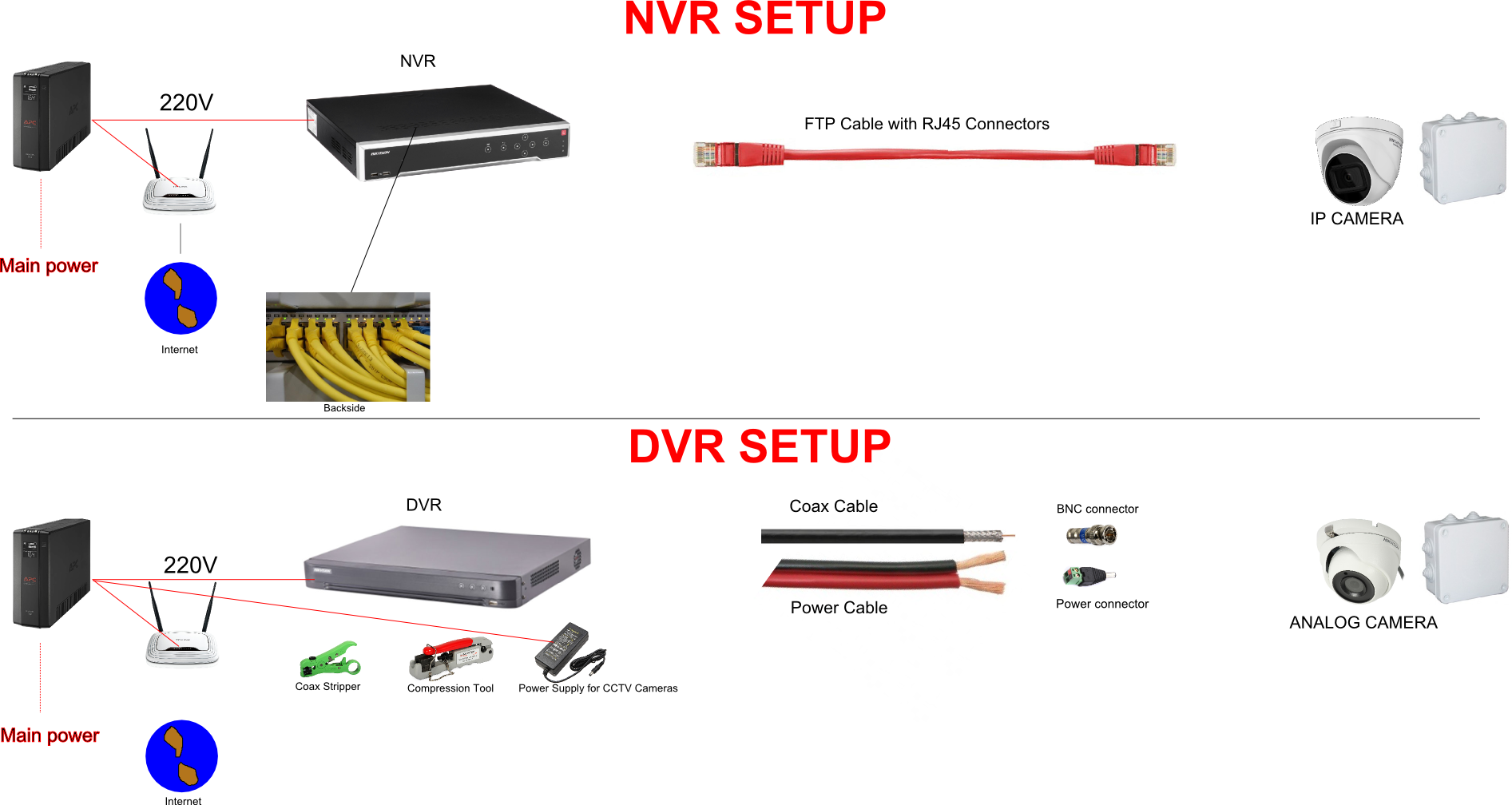 Learn how to install a security system from A to Z from my other articles:
Choose Best Recommended Security System for Business
The Real Cost of Buying Cheap Security Cameras Systems for Home
Security Cameras – How to Install Using Simple Rack Server Setup
Several Long Distance CCTV Camera Installation Tips
DIY Learn How to Install Home Security Cameras (with charts)